Hello everyone!
Its been a while hasn't it! You probably thought I may have fallen off the wagon since my last update. Well quite the opposite, I stayed true to my ban and yesterday marked my first day of freedom! Wahoo!!!!
*cartwheels*
The reason I didn't do any spending ban updates was simply because I wasn't spending money, I wasn't going out too much and well... thats about it! Would have made for a boring weekly update wouldn't you agree? I did buy some holiday clothes - after all can't go on holiday flip flopless can I? But this was never a clothing ban, this was a beauty ban and honestly, I could do with some new clothes as the same striped top is getting pretty old!
OK so how do I feel? Am I changed woman?

I can honestly say with my hand on my heart this ban has been the best thing i've ever done. I haven't bought any make up (well a couple of little slip ups but every boots trip, every website I went on... nothing!) for almost 6 months. Sure I slipped up, I caved for MAC Archie Girls and the Urban Decay Oz palettes, but honestly, they were great buys. They were things I wanted, have used and am pretty happy with, no regrets here guys!
Before this ban, I was uncontrollable. Buying stuff almost every single day with a credit card debit upto my ears and an overdraft to match. Sure I've still got a hell of a credit card debt, but I'm out of my overdraft and my finances are on the up! I've managed to afford a wonderful holiday to Florida in 10 days with a nice little kitty of spending money to match. You should never let yourself get to that point, all cards maxed to the limit, and I intend to never get that way again for the sake of make up. Sure it makes me happy for that split second I am ripping open the box, but I'd rather have money to do nice things like go on holiday than buy what I probably already have sitting in a drawer somewhere.
Compared with what I am now, I can't imagine frivolously buying things after this ban. I have actually learnt the value of money. Before I didn't wince at £20 for a blusher, but now I know its bloody ridiculous and while yes, the blusher is pretty, I probably have one like it. I have taken to researching things I want, waiting to see if I still want it a few days later and using up things in my current stash before buying something similar. The spending ban was great for me and I'm so glad I did it!
So if you are looking at your stash thinking "god thats a lot of stuff" or cringing at your bank statement like I was, then I can't recommend a spending ban enough. I think it was easier for me as I actually wanted to quit the habit. Much like smoking, its easier when you want to quit, you are in a different mindset and a lot more motivated! Don't worry if you make one or even two purchases - get right back on that horse! At the end of the day concentrate on what you have saved not what you haven't. Over the ban yeah I spent about £150 but I saved thousands. I used to spend £800 on make up a month which is absolutely ridiculous, but over the course of the ban I'm not worried about the £150 I did spend but rather, I'm proud of the money I didn't!

So thats my spending ban done, I'm a free woman! Would you like to see a tips post or all the empties I collected over 150 days? :)
Twitter / Bloglovin / MakeupBee / SheSaidBeauty
/ Pinterest / Tumblr / Beautysets / Baobella
Like my blog? I'd love it if you'd consider nominating me for a Cosmo Blog award here under Established Beauty Blog! It'd really make my day! :)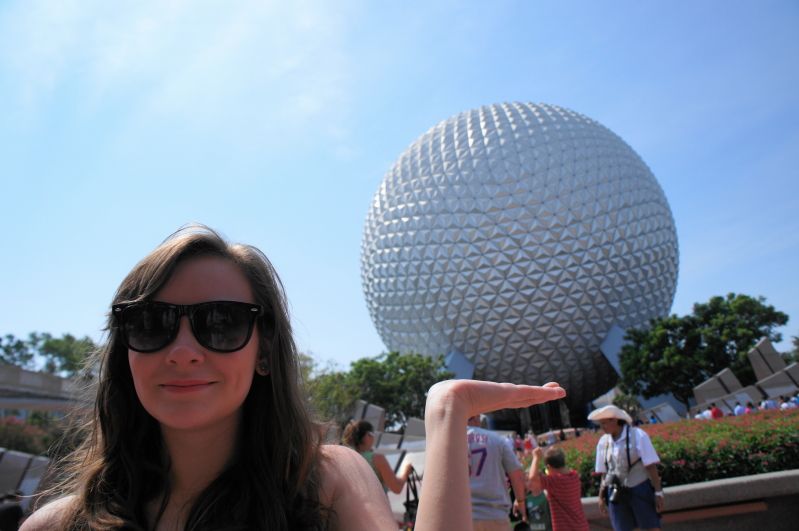 And what would any spending ban post be without a picture of my silly mug at Disneyworld! 9 days! :D