This is Halloween Series: Katy Perry California Gurls Make Up Look
I will admit, I've had this look planned for a while and was meant to do it way back last year but never got around to getting the blue wig! When I made an order for some Halloween bits and bobs, the Katy Perry famous blue wig jumped straight into my basket and I thought, its about time!
Just for the record, I am a huge Katy Perry fangirl and have done various looks of hers which you can find in the series tab up above! I love the California Gurls video, song, just everything about it and if I had her bod, hell I'd be wearing her cupcake bikini to the Bloggers Halloween party! But alas, I'm doing something Disney but if you fancy being Katy Perry for Halloween, here's the make up! In the video she is wearing is a gorgeous pink glittery eye with subtle defined crease and big lashes (not forgetting the blue and lavender wigs!) She is also rocking fuschia lipstick, but for some reason in her recreation in Wide Awake, she is wearing a more muted pink which I opted for as I felt it was more complimentary!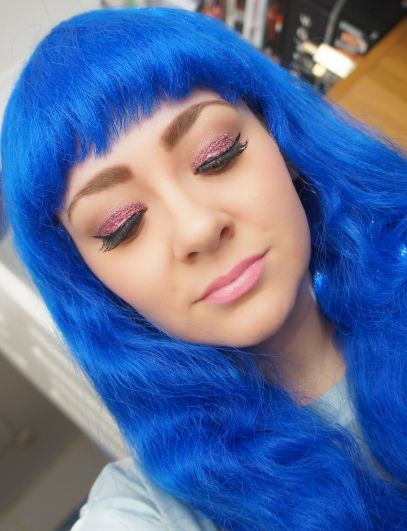 I used a blend of OCC glitters in Magenta and Pink all over the lid to try and get the exact colour Katy was wearing. I think I did OK! Other than that, it was a pretty simple easy look to recreate!
So thats the look! Hope you liked it! I absolutely loved being Katy Perry for a day and really did not want to take off the wig! I found some great Katy Perry outfits here, here, here and here (I promise the links aren't sponsored in anyway, I just ordered from these websites and saw the outfits when buying the wig!) if you fancy being Katy Perry for Halloween! I found it incredibly fun being for the day!
So just quickly, I wanted to talk to you guys about a Blogger Meet Up/Halloween party I am attending. Loads of beauty bloggers are going so if you are UK based, then check out this blog which the organiser Becky has kindly set up. You'll find all the details there, including ticket prices (its not expensive promise!), location and even hotel info if you need to stay! Becky has got loads of stuff planned including competitions for fancy dress and lots of prizes to be won (including MAC and Lush) so get yourself a ticket and outfit and come and meet some bloggers!
Leave me a comment below if you're coming to Bloggers Halloween and don't forget to use the hashtag on twitter and get talking to all of the attendees :)
blogofshadows@hotmail.co.uk