Review: EOS Lip Balms *Disney Edition*
Hey everyone. A slightly different review on le blog today. I thought i'd review the EOS lipbalms - a staple in my make up bag and since I have a couple from the Disney Alice in Wonderland collection, well you know I love me some Disney!

EOS is a brand which isn't so accessible in the UK as most British beauty bloggers would like it to be. For most bloggers who try it, its love at first sight (or rather... use!). I first tried these little babies when I went to America last year, I found them in Wal-mart and thought I may as well throw them in my basket as they were only a couple of dollers. I initially picked up Mint and Tropical flavours and am so happy I did.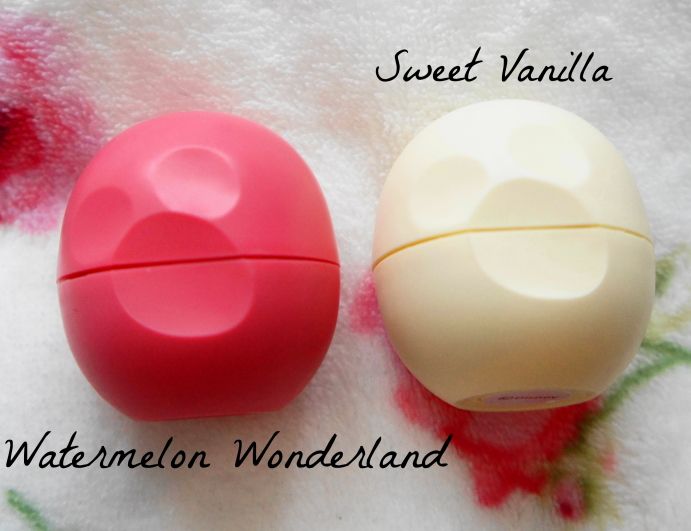 These little balls (?) are probably hands down the best lip balms I have ever tried. I used to suffer from horrible dry lips, in fact when I was in school I used to take time off from school because they was so cracked and dry they became painful beyond belief. I have a little tube of cream from the doctors which I have used ever since, for when my lips get bad. But I have found the EOS lip balms are the closest thing to drugstore lip conditioners that repair my lips, soothe them and make them feel soft. I do sometimes need to use my cream, but now it isn't such a regular occurrence.
Thank goodness I actually won a couple of these little guys in a giveaway the other month. AND to top it all off... they are the Disney Alice in Wonderland ones! Yippee! They are exactly the same as the others I have tried, moisturising, apply clear from the sphere shaped screw top applicator and are 100% natural ( I think this is a huge plus in my book) as well as 95% organic. The only difference are the flavours are limited edition (sweet vanilla nonsense and Watermelon Wonderland - cutest names!) and they have the most adorable little mickey mouse detail on the side. They perform just as well as the normal EOS ones though!
It is definitely worth getting your hands on some EOS if you can. I know some websites like Cutecosmetics.co.uk and Cocktail Cosmetics sell them for £6 a pop, which in my opinion is absolutely ridiculous, but an option if you want to try them. Alternatively get a pal from America to send you some or keep an eye out if you are going out there yourself. They are definitely worth trying!
Have you ever tried EOS Lip Balms? What do you think?
Twitter / Bloglovin / MakeupBee / SheSaidBeauty
/ Pinterest / Tumblr