Urban Decay "Oz The Great & Powerful" Palettes: Glinda review&swatches
Hey everyone. Today I have a really exciting review. Now yes, I did break my spending ban - it was pretty inevitable seeing as I literally LIVE for Urban Decay palettes. But what's done is done and to be honest, I don't regret a thing!
If you don't know, Disney are bringing out a new film I think due out this summer - "Oz The Great and Powerful" - a prequel to the Wizard of Oz starring Mila Kulnis, James Franco and Michelle Williams. Being the Disney freak I am - I can't wait!
Urban Decay are collaborating with Disney (much like the Alice in Wonderland collection) to bring out 2 palettes based on the witches Glinda and Theodora. Today I have Glinda to review!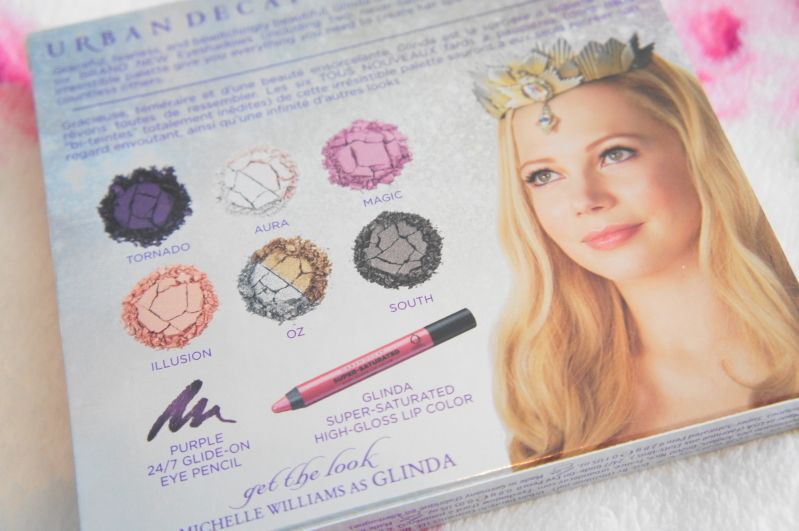 First off, the packaging. I've yet to experience to new style of Urban Decay palette. These are the build it yourself palettes, which means you can chop and change the eyeshadows in the palette as you wish. This is pretty cool because it means if I ever hit pan on one of the shades, I can replace it or if I want to use the palette for travelling, I can put more everyday friendly shades in it. They also have a huge mirror, feel quite sturdy and the pans are very easy to take out unlike the MAC pans which to be honest with you, I struggle with!
Onto the swatches, that's what we are all here for right?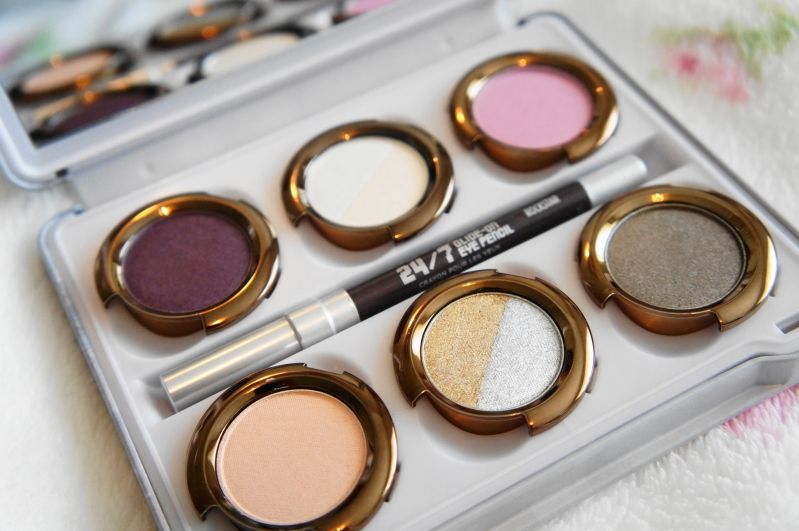 Honestly, this palette was a pleasure to photograph. Every photo looked bright and whimsical.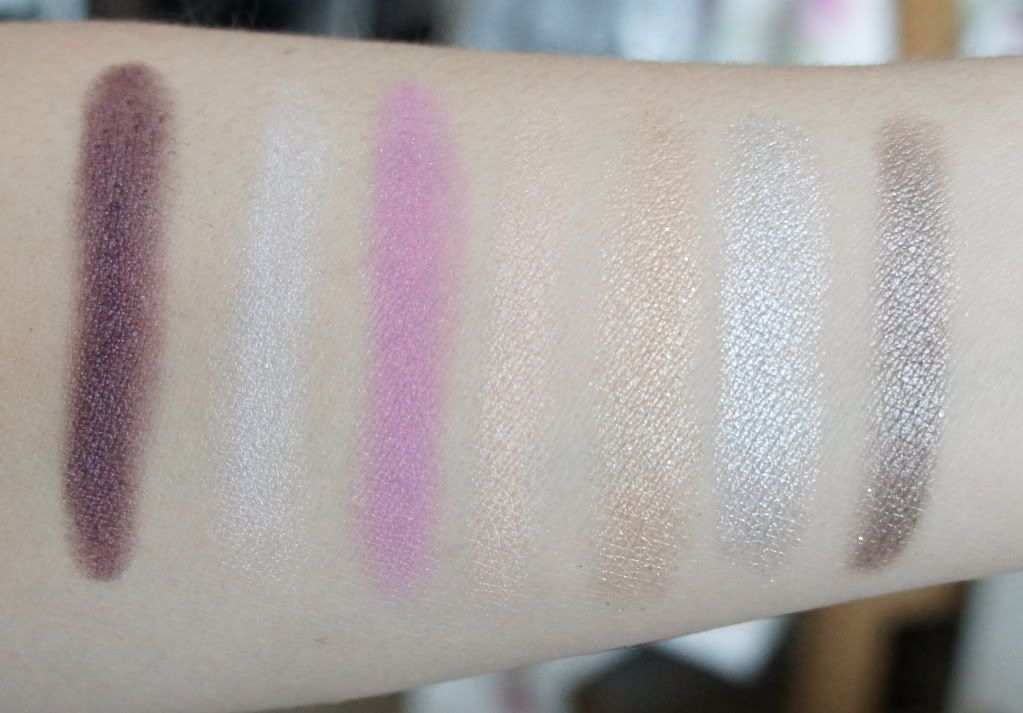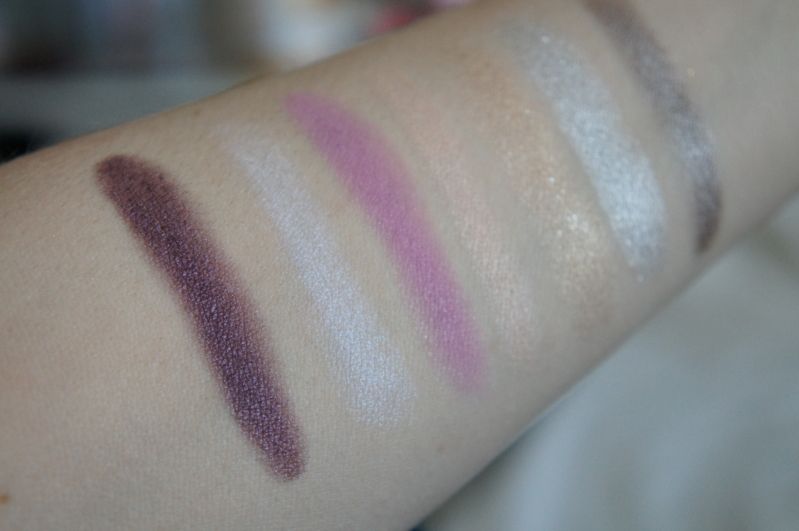 The eyeshadows are the soft buttery consistency which is common across Urban Decay. Their formulations really are one of the best around, in my opinion far exceeding MAC in terms of blendability and pigmentation. I would have liked the palette to be a bit more pigmented ideally. I have an individual breakdown of each shade below as there are hit and misses.
Tornado - This shade is everything you expect it to be. Its buttery, blendable and very pigmented but can also be used lightly for just a deep shade in the crease. This is actually very similar to my all time favourite eyeshadow - Marvel by MAC but much better in terms of formulation.


Aura - This is a duo with a nice iridescent white and creamy skin colour. For me the skin colour didn't even show up when I did my first lot of swatches, so I didn't even bother the second time instead just swirling them both around to get the colour you see. I wish these were both a little bit more pigmented as I am really going to struggle to use the second half of this shade. I really like the white shimmery half though as it has a certain iridescent quality about it which is really nice and unique.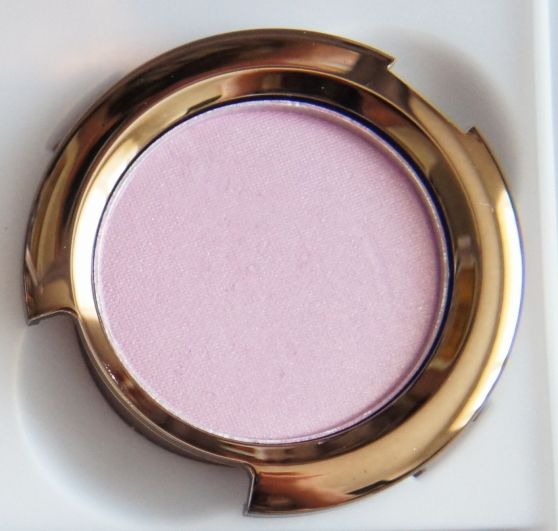 Magic - I really like Magic, its not often you get a nice pink that comes across. While I wish it was more pigmented as I did have to work to get it to swatch, I like how soft it is and perfect for daytime. It does have a hint of chalkiness to it though and not the same superior quality the other eyeshadows have.
Illusion - I really want to like this shade, but I feel like its just too sheer to use as a wash of colour and really doesn't suit my skintone. I wish they had put a nice light purple or something instead of this shade because for me, I don't think I'll get much use out of it as its not quite right on me for a highlight. Hmmm... very confused about this one.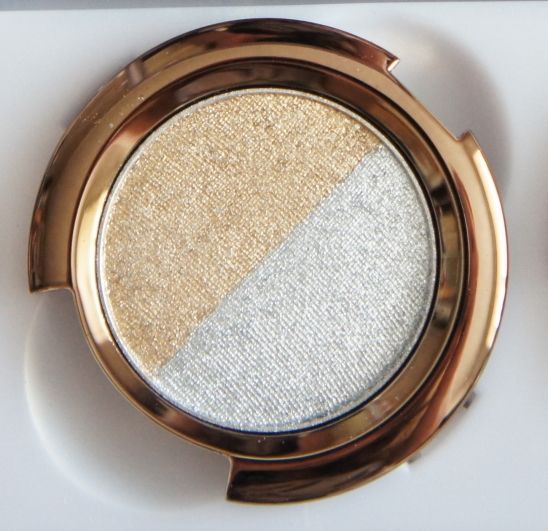 Oz - I really want to like this one, I really do! But you know Urban Decay has those eyeshadows in every single palette which is just... such a fall out glittery mess. Yeah this one is one of those. The gold, just has glitter flying around everywhere. Its very sheer for a gold, I have a lot of golds in my collection which are true golds and this one just sort of blended out to a subtle hint. The silver is nice though and wonderfully pigmented.
South - South is a lovely taupe shade with the texture and formulation you would expect. Its buttery, blendable and pigmented. It goes lovely in the crease or all over the lid and I think this is the shade I will get the most wear from.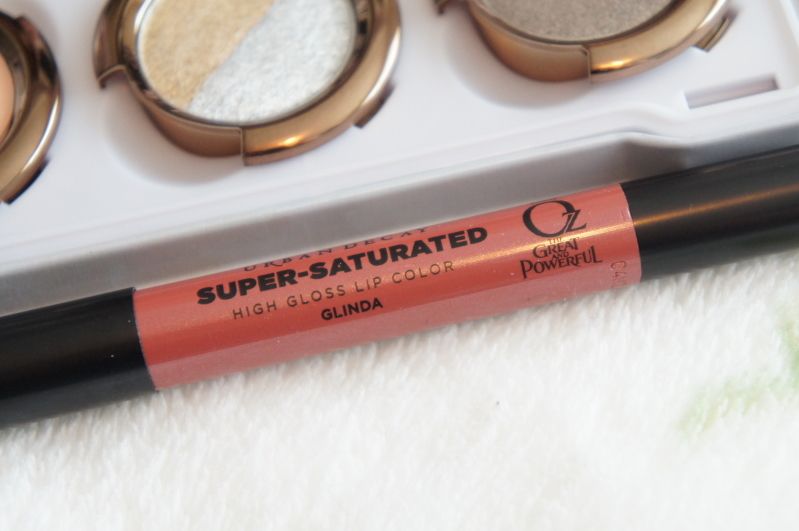 I myself own one of the normal permanent line Super Saturated Lip Pencils and they are lovely, so I was pretty excited by the fact that Urban Decay were throwing in a couple with the palettes. The shade in the Glinda Palette - Glinda is a nice everyday shade. On my lips it is a "my lips but better" shade. I love the formulation of the lip pencils, they are creamy and moisturising and most of them deliver wonderful colour payoff too. I do like this shade even though it isn't the most pigmented as I will get a lot of use out of it especially for work. I wouldn't say it is super saturated though!
Last but not least, included in the palette you get an Urban Decay 24/7 eyeliner pencil. I am a huge fan of these and own a fair few but luckily I didn't own Rockstar. I would describe Rockstar as a plummy brown. To me, it is not quite black, not quite brown and not quite purple. Its softer and less harsh than Zero which comes with the Theodora palette, which suits the theme of this palette perfectly. Its nicely pigmented, soft and creamy. I never have a bad word to say about these eyeliners.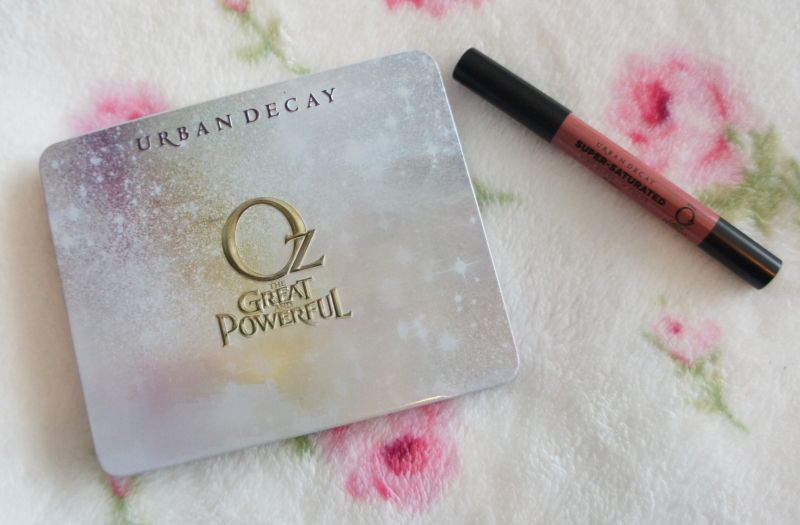 So that is everything! Overall I really *want* to like this palette. I love the way it looks, all whimsical and girly. I love the packaging and the fact you can chop and change the pans as you wish. My only issue simply lies with the eyeshadows themselves and it all comes down to my personal taste. I myself love bolder more pigmented shades, while this is a more daytime palette with softer eyeshadows. I think the eyeshadows while sheer and not as pigmented as I would like, they ultimately suit the palette down to a T. The palette is supposed to be sheer, girly and soft and everything included in it, from the eyeshadows, lip pencil and eyeliner all fit that description perfectly! I think Urban Decay did a great job even though this isn't for me.
I am definitely a Theodora :)
What do you think? Are you a Glinda or a Theodora?
Twitter / Bloglovin / Hello Cotton / MakeupBee / SheSaidBeauty
/ Pinterest / Tumblr