Lush Review: Buffy
Hi everyone. You know when you just find that holy grail product, that product you will never ever replace. I have found that with Buffy, it will forever be in my Lush collection and no other exfoliator will take its place. I made it my mission a little while ago, to use up all the exfoliating products in my stash before buying another Buffy, or they would never get used. I am pleased to say 3 pots and 4 sugar scrubs later, I am back to good old faithful Buffy and I couldn't be happier!
Buffy is a square sized block with ground almonds and aduki beans for exfoliating goodness, but also cocoa and shea butter to soften and moisturise, this is a double threat. Not only does it buff your skin and leave it baby smooth, it also leaves it silky soft and moisturised. As someone with eczema and extremely dry skin, I find this is the ONLY exfoliator I can use that is harsh enough to the job but also doubles up as a moisturiser leaving my skin unirritated and sufficiently moisturised.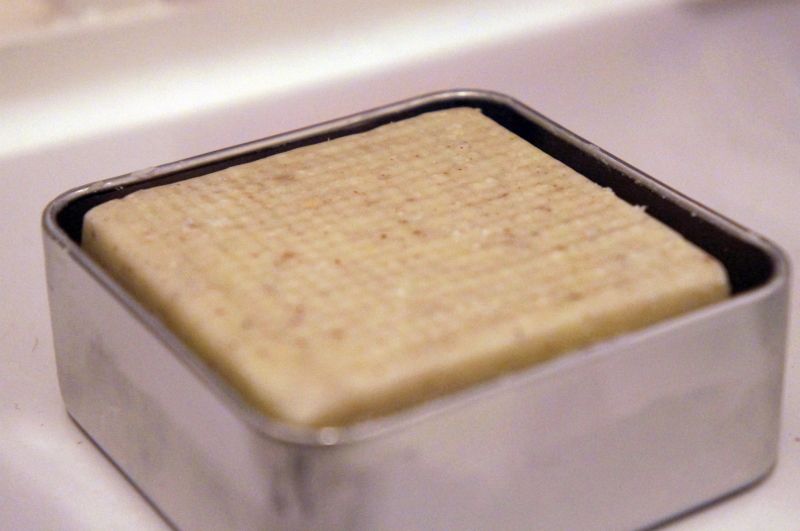 This is the smaller size Buffy, as you can see it is perfect for the little tins you can buy.
I use this product on the backs of my arms and legs, Lush recommend using it on your bum as an anti cellulite measure (gonna have to try that!). Being in block form, its perfectly hand sized and quicker than dipping into a pot and scooping out product. It lasts a long time, with mine having months worth of use before running out. It is the ONLY product for me that works at buffing away dry skin and dead skin cells.
Buffy is £5.95 for the small size and £10.25 for the bigger block. It is available at your local lush store or here online.