Lush X-mas Review: Twilight Shower Gel
Hi everyone! Today in my Lush x-mas reviews is the highly anticipated Twilight Shower Gel. Twilight is one of Lush's most popular bath bombs with a scent that Lushies go mad for! Incorporating it into a shower gel for those without baths is absolute genius!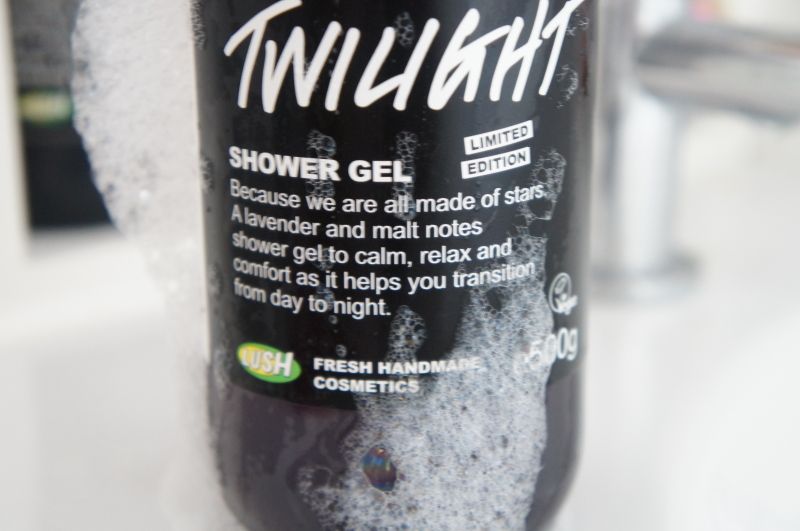 Having the Twilight scent in shower gel form makes it incredibly easy to smell like your favourite bath bomb on the go. I find I have showers a lot more frequently than baths, simply because of time constraints, so its lovely to be able to use one of my favourite scents in the shower for once! Twilight is a very musky, deep lavender scent, perfect for night-time and drifting off into the land of nod. Apparently there is a hint of vanilla, but I cannot detect that. Lavender is definitely the main note, but its very earthy, mysterious and deep.
Twilight shower gel lathers well like all Lush shower gels and the scent stays on the skin for a little while but perhaps not as long as I would like. It doesn't seem to affect my dry skin or eczema in any negative way. As for a comparison to the bath bomb, I would say this is stronger.
The only negative about this product is the silver iridescent particles that Lush have put in, to replicate stars on a twilight night. These have just gathered at the bottom of my bottle instead of being scattered throughout sadly. I would have liked a little bit of a starry surprise in my shower gel but nonetheless I like the idea!
Twilight Shower Gel is available from the Lush UK website (ships worldwide!) for a limited time! You can get 3 different sizes, 100g for £4.25, 250g for £8.50 and the biggest (which will last you a very very very long time) is 500g for £14.95. If you like Twilight, you will love this! Its incredibly handy to have on the go regardless of if you shower or bathe. You can purchase it here.
Have you ever tried Twilight Bath Bomb? Does the Shower Gel appeal to you?
Twitter / Bloglovin / Hello Cotton / MakeupBee / SheSaidBeauty