Lush X-mas Review: Let the Good Times Roll & Buche De Noel Cleansers
Hey everyone.
I am trying to pump out as many Lush X-mas reviews as I can because I still have a LOT of the X-mas range to review! Today its going to be Lush's newest cleansers on the block, Let the Good Times Roll and Buche De Noel. I was very excited (I am always excited about Lush new releases but never mind) to get my hands on these and they did not disappoint. Rave reviews inc.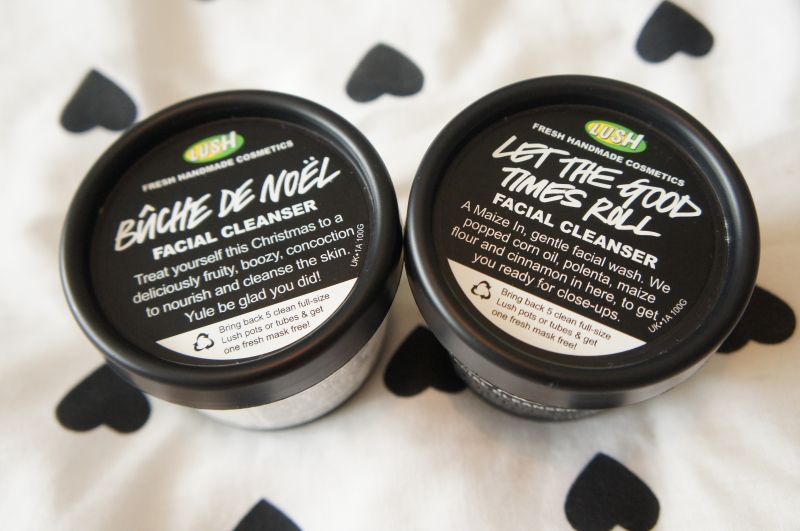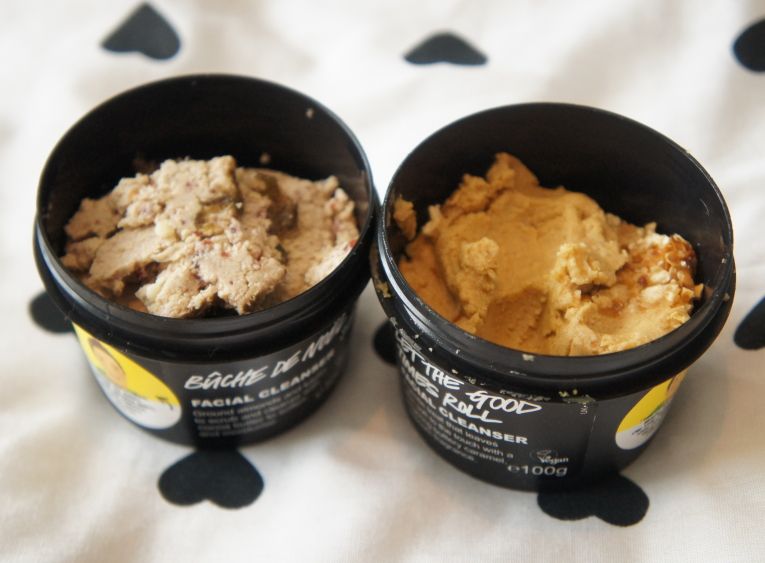 Let the good times roll cleanser is a gorgeous smelling beauty, if you are a fan of the Lush Popcorn lip scrub, you are gonna LOVE this. This popcorn smelling cleanser is just wonderful. However I am not entirely sure I would class this as a cleanser, on my skin it does a far better job at exfoliating. It has a sandy feeling texture which gentle exfoliates the skin and doesn't leave it feeling sore or too harsh. The texture of it is gummy and squishy, the strangest "cleanser" I have ever used since its kind of like a squishy roll. However when in contact with water, it turns into a paste which can easily be smoothed onto the skin. It is definitely very moisturising on my dry skin and does a wonderful job of leaving my skin feeling soft, moisturised and exfoliated. The smell is an added bonus and when used with my Popcorn lip scrub, my face is taken from windburnt, chapped and dry to moisturised, clean and smooth. I love this product and was devestated to learn it was limited edition. however rumour has it that Lush are considering making this permanent, so we can but hope!
Buche de Noel is quite different to Let the Good Times Roll, it doesn't have that gritty texture so it falls more into the cleanser category I feel than Let the Good Times Roll did. Again this is a product that comes in squishy roll type texture which turns to a paste when coming into contact with water. The smell is again really nice, its warm and christmassy - I feel it would be a very generally pleasing scent. As for cleansing, I feel like it does a good job. My face is left feeling really moisturised which I love - i've had my fair share of cleansers in the past that leave my skin feeling suffocated and tight! This isn't the case with these, my skin feels soft, intensely moisturised and clean. I think I'll definitely be grabbing a couple of these in the Lush Boxing Day Sale to store in the back of my fridge for the entire year, for times where my face needs that little bit of TLC :)
So, I really cannot complain about these offerings from Lush. The only thing I wish is that I could get them all year round because I love them and hate when you fall in love with skincare that is limited edition. They work wonderfully and feel like they are made especially for my intensely dry skin. A must have if your skin is feeling the strain of winter! Both are available from your local lush store or online (links have been provided above!).
What do you think? Will you be grabbing any of these cleansers?