12 Make Up Looks of X-mas: Day 9: Gold, Frankincense and Myrrh
Hey everyone. So today, instead of doing a daring look, I thought i'd do something more wearable with Sugarpills Goldilux Loose Eyeshadow. Its a beautiful loose eyeshadow which is almost liquid gold when applied wet. But I still wanted the look to be more wearable, so I decided to show off a way to wear gold in a more subtle tone and I really like the result! I think its festive without being too OTT and would look great on Christmas day or any last minute shopping!
Goldilux is disgustingly gorgeous. Lets all just take a moment and stare...
Anyways... onto the look!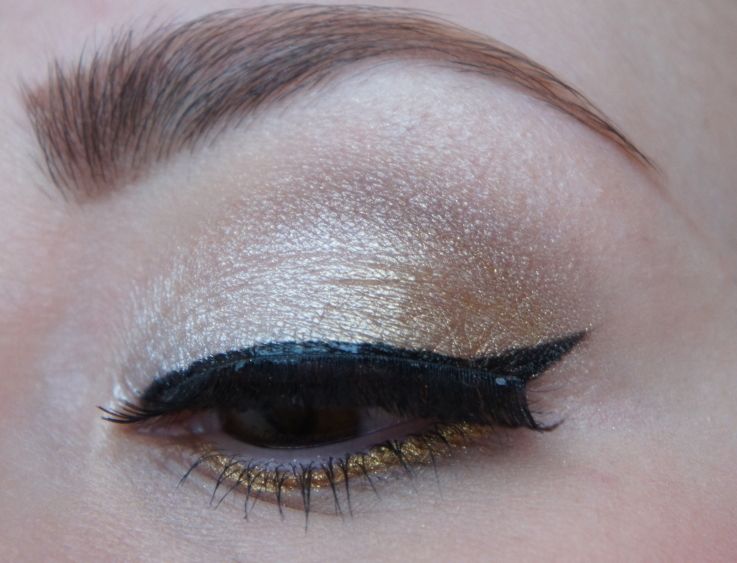 Excuse the big old glue mark on the falsies. I am beyond cheap and reuse my lashes far more times than they are intended to be used for. Alas... these will be going in the bin after this - I don't think they can be worn anymore times. Poor things.
Products Used: Urban Decay Naked Palette - A mix of virgin, sin and a teeny bit of half baked all over the lid with buck in the crease very lightly. Sugarpill Goldilux applied very lightly to the outer corner and applied wet on the lower lash line. Katy Perry Eylure Cool Kitty lashes with Nars Stylo eyeliner. Laura Mercier Tinted Moisturiser and MAC Crew Highlight/blush on the cheeks. MAC Lingering eyebrow pencil and Ricepaper eyeshadow to highlight. Finally Revlon Lip Butter in Cupcake.
I very much hope you enjoy this look, I am actually rocking this to go x-mas shopping today (gotta get the last few bits and bobs!) because I think its wearable and festive at the same time! Hope everyone is enjoying the festive season!
Until next time for Day 10! :)
Twitter / Bloglovin / Hello Cotton / MakeupBee / SheSaidBeauty
/ Pinterest