Review: Lime Crime Carousel Lipgloss (&Swatches!)
Hi everyone. Today I have a special review. You probably all know I am a huge fan of indie make up brand Lime Crime. Their Carousel lipglosses have been out for a long while now, but only recently did I complete my collection and thought I would do a review on them!
Lime Crime have 5 Carousel Lipglosses in their collection originally meant to be Limited Edition, but made permanent because of their popularity. The Carousel Lipglosses are 5 wonderfully unique shades of lipgloss with intense (and I really do mean intense) pigmentation. What makes them really stand out is the interesting design, in that the lipglosses outer casing makes it look like part of a merry-go-round with a fancy swirly design. I myself cannot get over the packaging. Swirling it around in my fingers creates a beautiful effect much like a kaleidoscope (which one of the glosses is aptly named!). The attention to detail really is amazing, there is even a unicorn head embossed onto the cap! But enough with that, you probably want to see swatches right?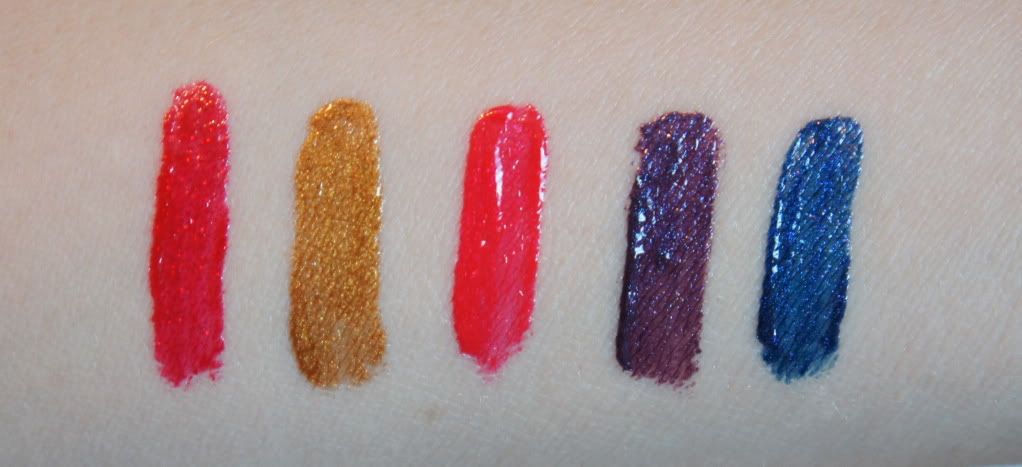 Indoor lighting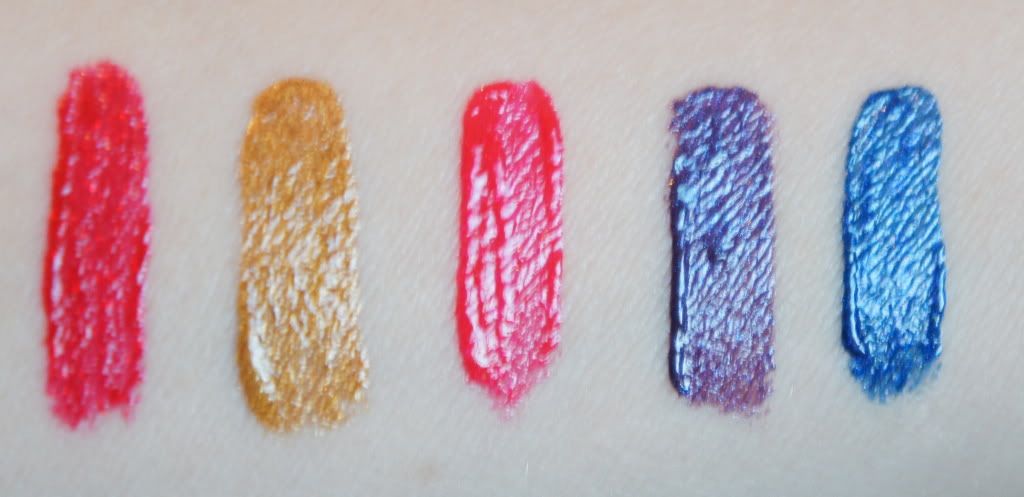 Direct sunlight
Read on for a more detailed review on each individual shade AND lip swatches :)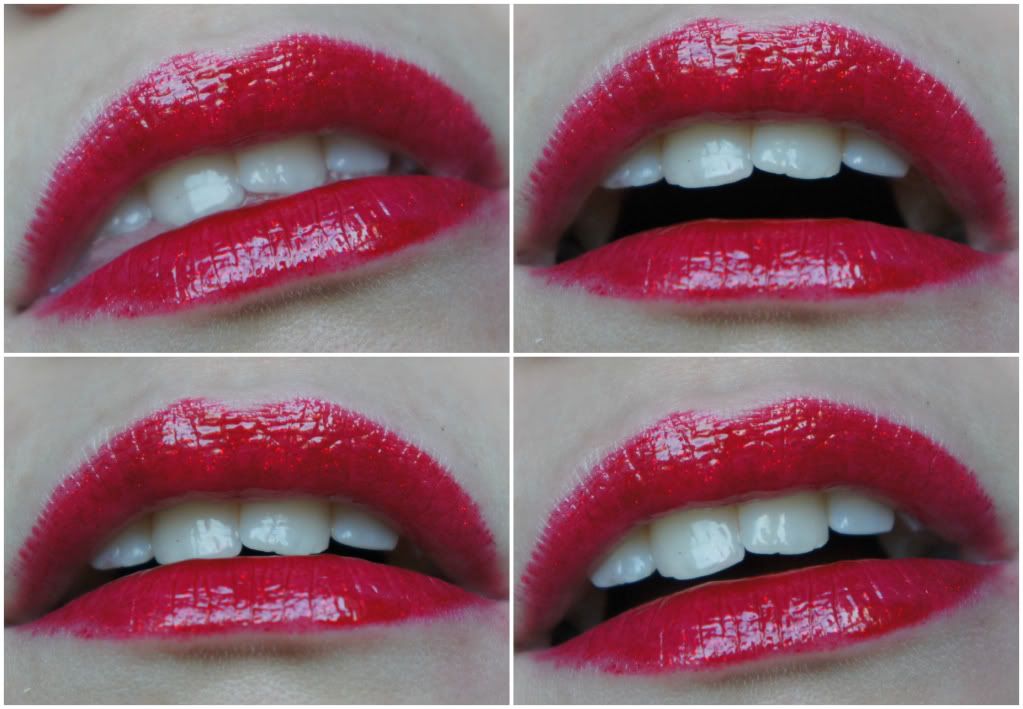 Click to enlarge :)
Candy Apple is a lovely festive red. It has these gorgeous specks of glitter in it, that unlike most lipglosses, you cannot detect at all! Candy Apple is an amazing shade to wear around this time of year, to me it just screams festive! There was no transferring onto teeth and it was intensely pigmented in just one swipe. It lasted about 4-6 hours on me with minimal eating and drinking and faded to a red stain. I myself quite liked the stain, but this can be reduced by wearing red lipstick underneath. This really makes Candy Apple pop and last even longer.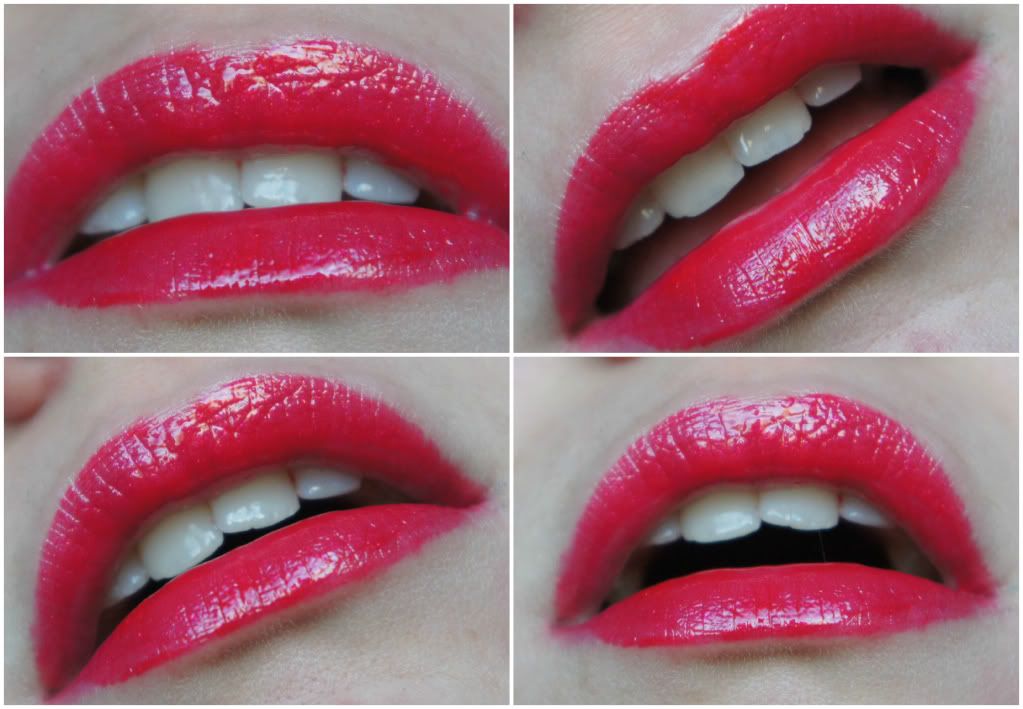 Click to enlarge :)
Cherry on Top is my absolute favourite lipgloss of the bunch. It is a reddy pink with wonderful forumulation. I experienced no transferring and pigmented with just one swipe. It was incredibly easy to apply and a lot more forgiving if you make a mistake than some of the bolder shades (i'm looking at you Loop de Loop!). It fades to a pretty pink stain (and looks lovely on top of pink lipsticks!).
Click to enlarge :)
Golden Ticket is the MOST wonderful shade of gold. Gold lipgloss! You are probably thinking what the hell? I was too, but its actually incredibly wearable and fun! This has lovely formulation in that it is pigmented in one swipe (I used two for intense colour!) and doesn't transfer onto teeth.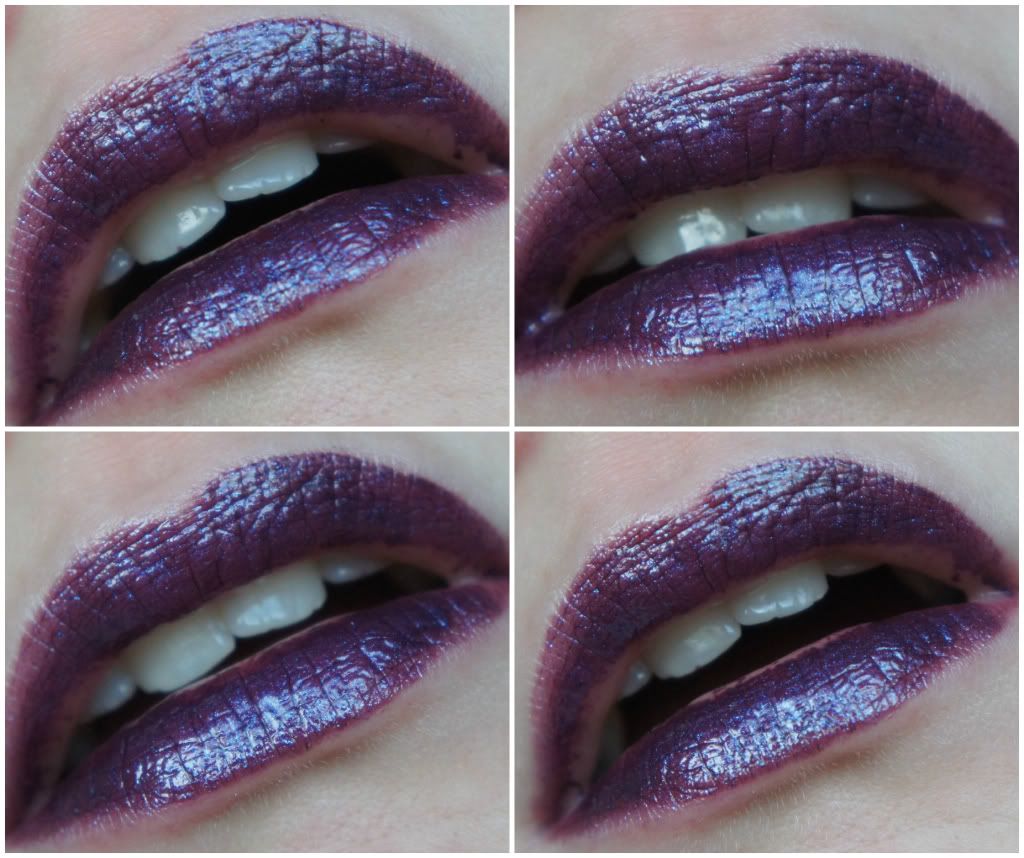 Click to enlarge :)
Kaleidoscope is a beautiful deep purple. This is a wonderful "fall" shade for the brave of heart! For me, I found this hard to wear because it kind of washed me out even more than I already am! I think this would look absolutely gorgeous on the darker skinned ladies though! I found out of all 5 lipglosses, this and Loop de Loop had the worst formulations They took a good couple of swipes to get even pigmentation (although I'm not complaining, just a perfectionist). I found this and Loop de Loop suffered in the same areas, in that both were quite sticky (probably because they are long wearing and aim for intense pigmentation). This means that they transferred ALOT onto my teeth. I found this was really worrying, because if I was to wear this out, I'd be constantly worried about having it on my teeth! This would probably be the sort of shade I would use for make up looks and not so much for wearing out - simply because of that reason! Be warned this shade does stain the lips!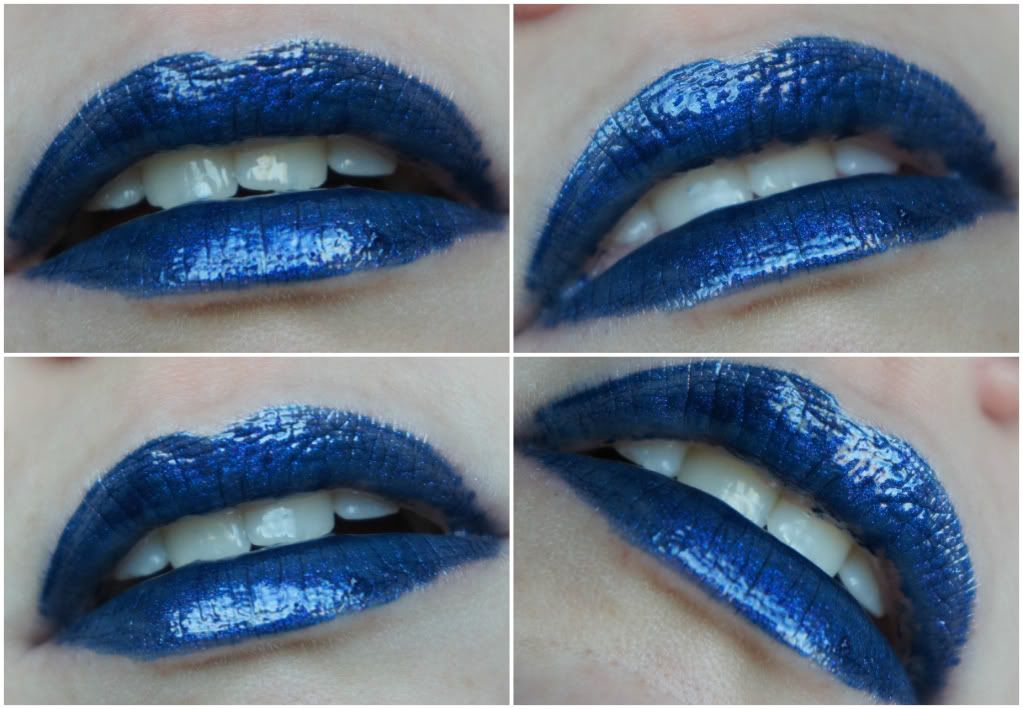 click to enlarge :)
Loop de Loop is a fantastic blue. I have never owned a blue lipgloss and honestly, it was a little scary to wear! Haha! Again it took about 2 swipes across the lips to get the desired pigmentation. One swipe just leaned too sheer for me but 2 really does get opaque even looking pigmentation. Again, Loop de Loop did transfer! The formulation of both this and Kaleidoscope seems different to the other 3 shades, in that it is
stickier
and more "
slippery
". I have no idea why this is, maybe because they are darker shades? Again Loop de Loop does stain!
These glosses deliver intense long lasting pigmentation - they really do. I have never experienced a lipgloss like it! They do stain the lips, so beware of that. With the more common shades like Candy Apple the stain is quite desirable but with Loop de Loop and Kaelidescope, it can look a bit odd!
The applicator is a funny one. I myself love it, because it is small and pointed - making it incredibly easy to apply the lipglosses precisely. They do take a little getting used to I find and if you have ever tried the Nars lipglosses, the applicators are pretty similar. I found some of the individual hairs on mine frayed a little, so I took nail scissors to shorten them.
I really do love them, while 2 of the shades did transfer, I do think they will be brilliant for make up looks or MUA/editorial purposes!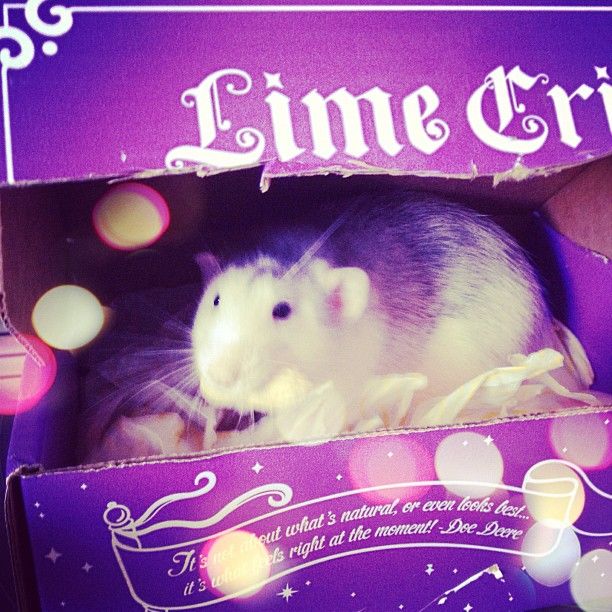 Did we mention Lime Crime is a cruelty free brand AND suitable for vegans. This makes Indie a very happy chappy!
Lime Crime Carousel Glosses cost $16.99 but Lime Crime does ship internationally and it always arrives very quickly in my experiences (within about 1-2 weeks) for a flat rate of $10 (so its best to make a big order rather than a couple of bits! Ahem... any excuse!). They are available here!
What do you think of the Lime Crime Carousel Glosses? Would you ever wear a crazy colour like Loop de Loop or Golden Ticket?
Twitter / Bloglovin / Hello Cotton / MakeupBee / SheSaidBeauty