Lush X-mas Review: Soaps!
Hello everyone! Instead of reviewing the Lush soaps individually, I thought I would include them all in just one post, after all, there isn't so much you can say about soap! Lush have got a great selection of soaps out this year, with a scent to suit everyone. I myself love a good girly scent, something so sweet it gives you cavity's in your teeth! My mum however enjoys spicy warming scents (her fav lush soap is Karma!) and my step dad likes zingy citrus scents. No matter what your scent, you are guaranteed to find something for everyone this x-mas in the Lush range.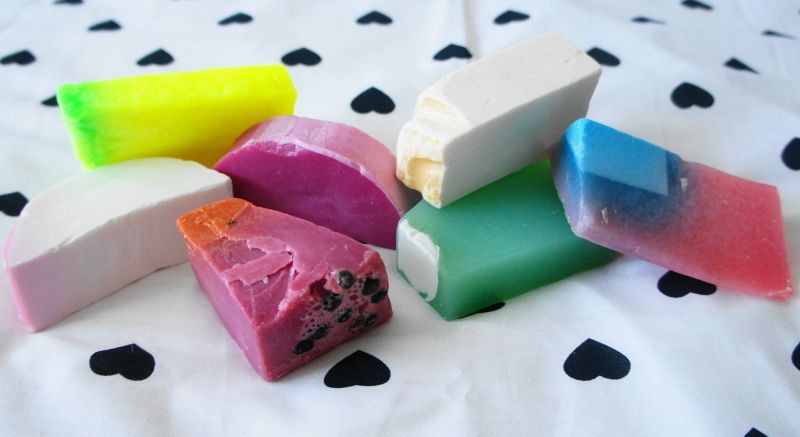 Northern Lights £3.25 for 100g - You see that florescent yellow soap? That is Northern Lights. I got this last year and loved it, but my step dad loves it more! Its very citrusy smelling, awakening and zingy, its guaranteed to wake you up in the mornings! I can detect a whole lotta lemon&lime notes. It is probably the strongest scent of the bunch.
This soap is for you if: You enjoy a soap that really wakes you up in the mornings! Its like an energy drink in soap form!
North Pole (White) £3.25 for 100g - This semi circle shaped soap is actually one of two halves, the other half being the pink part! Both parts have different scents. The white part is sweet and minty with Peppermint Oil, Coconut and Cocoa. Its a super sweet treat for anyone who loves a girly scent. The mintyness is really nice and makes me think of those Rock sweets that you get around Seaside towns.
This soap is for you if: you love Snow Fairy or any of Lush's girly scents.
North Pole (Pink) £3.25 for 100g - The other half to the white part has a deep chocolatey scent with just a tiny hint of mint. It reminds me of Matchmaker chocolates or After Eights. Its dark and mysterious but still girly and sweet. My mum has taken a rather big liking to this soap.
This soap is for you if: you want to smell as good as chocolate.
Mr Punch Soap £3.75 for 100g - On the Lush website, Mr Punch had some funky colours and actually looked like a (strange) x-mas pudding! However my cut came as a bit of a shock, no fun colours and a whole lotta berries. I don't mind so much though, the smell is divine. Its fruity, tropical and summery. It takes me back to just a few months ago, sipping fruity drinks in the scorching sun in Florida. I love it when a product can trigger a memory/place/time in your life. This does exactly that! Give it a whiff and you will be transported from cold old England to somewhere sunny and tropical. I almost want to take a bite and see if it tastes as good!
This soap is for you if: You love fruity scents and can't wait for the summer to come back!
Snowcake Soap £3.25 for 100g - Snowcake is a very x-massy smelling soap. It smells of marzipan and cake batter. The smell is quite easygoing, its not strong and quite universal. It smells very clean and I can see it being favoured my men and women alike. The best thing is it just smells like x-mas, you get a festive tingle when you use it and get whiffs throughout the day that get you in the festive spirit! My one gripe about this product is it does dry out my hands.
This soap is for you if: you want a soap that smells good enough to eat, but also brings out the x-mas cheer.
Snowglobe Soap £2.95 for 100g - Snowglobe is that minty green soap in the picture. Much like Northern Lights but not as strong, Snowglobe is citrusy and uplifting. It wakes you up with lemon and grapefruit notes. The funniest thing is, whenever I go to smell it, I expect mint! There is no mint about it but rather scents of orange and lemongrass. Snowglobe is also the cheapest in the range! It would make a great little gift in a loved ones stocking, being a universal scent great for both guys and gals, it will also make the stocking smell lovely!
This soap is for you if: you need something to wake you up and give you a burst of energy during this very dark winter.
Angel Delight £2.95 for 100g - Angel Delight is one of my personal favourites Its a funky looking thing (the last soap in the picture) with a jelly pink appearance and different colours throughout. It just looks fun to use AND has flecks of glitter and lustre dotted in some places. It has a super sweet fragrance. I can detect a little bit of orange but more so its just tropical and sweet with no particular notes standing out. It is one of the cheaper ones in the range so definitely worth putting in a loved ones stocking this year :)
This soap is for you if: you are a girly girl looking for a fruity girly scent to get you through winter and back into summer!
So that is all the soaps in the x-mas range and I have to say I love them all. Not a single one do I smell and think "urgh, won't be using that". They are all universal and easy to like scents. I myself have placed them on a little dish in my bathroom so the whole family can pick and choose as they like!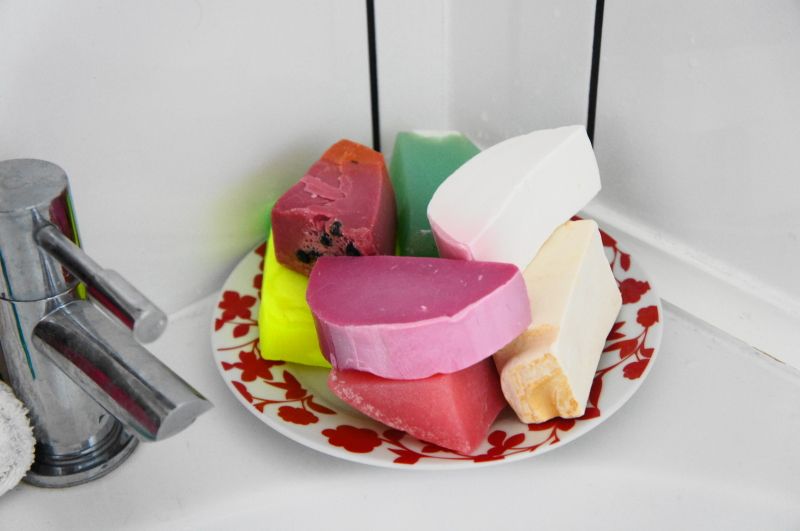 Have you tried any Lush x-mas soaps? Have any taken your fancy?