Lush Retro Review: November 2012
Hello lushies and non lushies (perhaps even potential lushies?). Again I have another Retro review. I really wanted this to be up sooner, but due to my giveaway being posted ect ect... I just couldn't get it up any sooner! Luckily everything is still available should you want to purchase something :)
If unsure of what Retro Lush is... every month (or two) Lush releases 4-5 products that are making a comeback. For whatever reason Lush discontinued them or they were only available for a limited time and for this month only they make a comeback. Its pretty exciting since it means people can get their hands on products that haven't been available in years. Also Lush UK ships worldwide for a very reasonable price, so no fear if they aren't available in your country.
Lets get on with the review!
I was really excited to try Jingle Spells, it has freakin' stars in it! Couldn't get more festive. The scent is very strong and relaxing, its one of those scents which could easily aid sleep! The main note I detected was Ylang Ylang and fennel. To be honest, its not my favourite scent because its quite heavy. It wasn't the scent that put me off but more the fact I felt suffocated by it. It fizzed quickly and made the water a lovely pinky purple. The stars are little foil stars that don't dissolve unlike the ones in Golden Wonder so be aware of that when emptying the bath out. They can be a bit sharp on the bum (ouchie!) but I really liked them, they made the bath different! My skin did feel a bit dry when I got out.
I would use with: Bathos Bubble Bar
Ideal for: Warm cosy baths, relaxing.
Would I buy again: Probably a no.
Last seen in: 2010
This jelly is a super fun colour, almost luminous! Iced Wine was inspired by a Canadian wine and Lush have included a nice big dollop of it in this! It does smell kind of wine-ish but also very fruity. A strange combination which i'm not entirely sure I like. Its nice, invigorating but also warming at the same time. A bit like Glogg but not as "christmassy" - I hope that makes sense! Haha! Iced Wine also doesn't seem to lather up as well as others I have tried because its a tiny bit "stickier", but its still pretty decent and leaves the skin smelling of it for a good few hours.
I would use with: Gingerbread House
Ideal for: Warm and cosy, but with a little bit of a kick!
Would I buy again: No probably not.
Last seen in: 2011
Ok so Spice Mountain really isn't my cup of tea. I initially liked it upon smelling it briefly, but the more I smell it the more I dislike it. When used as an actual soap with water, the smell is quite pleasing and festive. Its warm, cinnamon-y and perfect for x-mas. It has a sort of mulled wine-ish scent to it too. However for me, I just can't get used to this as a soap. That is just personal preference though - if you know me you know I love a good candyfloss sweet scent (hello snow fairy!) but if you like your warm, winter scents this is a very good choice! It doesn't get more festive than this one!
I would use with: Gingerbread House, Iced Wine or Glogg Shower Gel!
Ideal for: Washing cold hands.
Would I buy again: Noooo
Last seen in: 2004!
What a perfect massage bar to celebrate MOvember with! I was very very excited about the return of Once a year, because this is my absolute FAVOURITE massage bar of all time. The fact it has a little tash on it, argh I love it! It is fruity with a hint of orange. Its very uplifting, and apparently has brandy in it for that x-massy feel! I myself can't smell the brandy! I love the Lush massage bars, I use them to moisturise with when I get out of the bath, or even break of a bit and use in the bath as a bath melt. They are so sooo good on my dry skin, keeping me soft and moisturised which is something I unfortunately find hard to maintain. My skin is the driest of the dry. I can moisturise and have dry skin again in literally a matter of hours. These really help with that, I would seriously recommend if you have dry skin of any seriousness! Also what's not to love? It has a moustache, smells like heaven AND has iridescent glitter in the tash!
I would use with: Mrs Whippy Bath Bomb, Snow Fairy Shower Gel,
Ideal for: Moisturising or you know... massages!
Would I buy again: Hell yes! Its my all time favourite!
Last seen in: 2011.
Ruby Red Slippers Bubble Bar
-3.95 each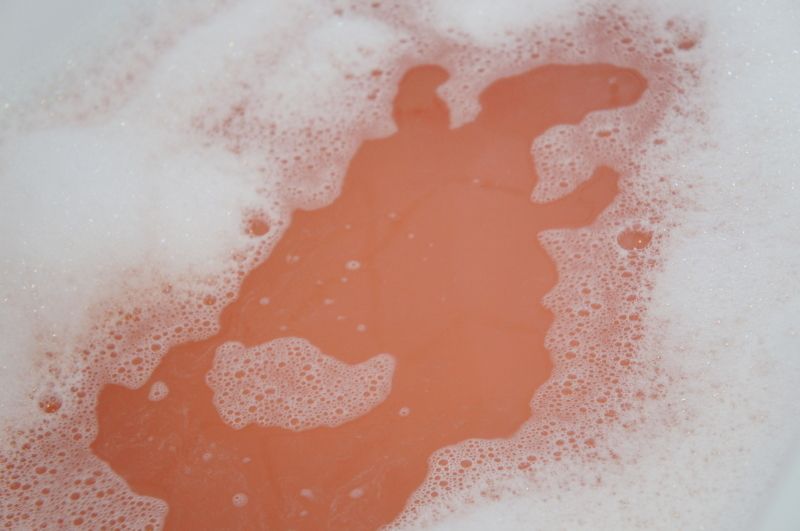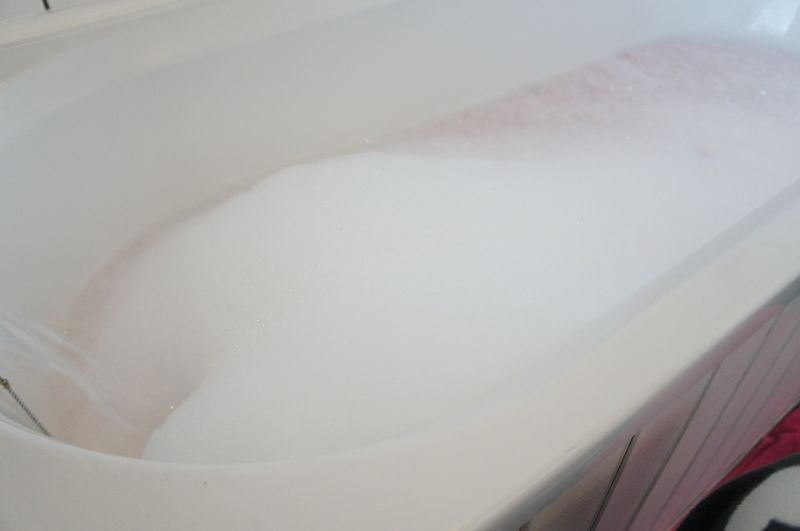 Wow this is one glittery little bubble bar. I mean, the second you touch this, you are covered in amazing red glitter. However this really doesn't transfer into the bath. If you have ever tried Sunnyside, you will know that boy oh boy, that bubble bar is crazy shimmer in the water. Ruby Red was only a little bit detectable, but not too much. The water turned a lovely strawberry pinky red shade and produced mountains of lovely bubbles. The smell is lovely and floral, the main note being rose and light florally scents. It is a very nice, fresh and light scent but I found almost completely disappears when used in the water and barely detectable on skin. Such a shame!
I would use this with: Sex Bomb bath bomb and potion body lotion has the same scent!
Ideal for: A girly sweet bath or when you need a hint of glitter in your life.
Would I buy again?: Perhaps, I am a bit undecided on this one!
Last seen in: 2010
Overall: I personally was a bit disappointed with this month, only one thing really appealed to me scent wise.
Hit: Once a year massage bar - this is always going to be hit with me!
Miss: Spice Mountain - I never seem to enjoy the retro soaps, I am yet to get one that actually knocks me off my feet!
Twitter / Bloglovin / Hello Cotton / MakeupBee / SheSaidBeauty
Pssst: Have you entered my giveaway, you can win 3 Lime Crime lipsticks AND its worldwide! Enter here