Lush Retro Review: September 2012
This month, Lush released some Halloween themed bits for their monthly retro. I was so pleased they even did a September Retro at all, they have had 3 major launches in the past couple of months, its a wonder they have all the time to continue bringing out monthly retros, but as long as they do, I am a happy lushie!
If unsure of what Retro Lush is... every month (or two) Lush releases 4-5 products that are making a comeback. For whatever reason Lush discontinued them or they were only available for a limited time and for this month only they make a comeback. Its pretty exciting since it means people can get their hands on products that haven't been available in years. Also Lush UK ships worldwide for a very reasonable price, so no fear if they aren't available in your country.
Not the best colour I have ever seen...
Isn't Jacko just the best halloween themed bath bomb you have seen?! I was so excited when I saw this was being released I bought 3! Unfortunately, Jacko does lack in the bath department. Despite looking like a bundle of fun, he fizzes away in less than a minute, instead of leaving the bath a fun orange colour, the bath is left looking like a strange yellow colour. The smell doesn't even make up with it. From the description I thought it would be a spicy cosy scent, perfect for the colder months ahead. Instead it was very lacklustre, with the scent hardly detectable in the bath or on my skin afterwards. It has a hint of citrus which is nice, but other than that I can only detect a tiny bit of clove oil? Its surprising because the bomb itself actually smells really nice and quite strong!
I would use with: Ceridwens Cauldren!
Ideal for: Getting into the spirit of Halloween!
Would I buy again: Probably. Even though it was boring, I just love the design. I would probably buy again if it was released next year just to get in the Halloween spirit!
Last seen in: 2011
This lil (or should I say big) guy is more expensive that the other bath bombs Lush come out with, mainly because this one is layered. It has layers of different colours which cause for a different type of bath experience and in my opinion, a better one than just your standard bath bomb! Magic is just fantasic because when you plop it in your bath, it fizzes a funky cool blue colour, which then turns to purple in the middle! It really is cool to watch and the bathwater looks like a fun old concoction at the end of it. The bad part? I couldn't sit in the bath very long because I felt like I was going to be sick. I couldn't stand the smell! That's not to say the smell was horrible, just a bit overpowering and not to my tastes. It was very very very floral and very very very very strong. The water was cool though!
I would use with: A French Kiss/Blue Skies bubble bars
Ideal for: A fun girly bath.
Would I buy again: No since the scent was just not me.
Last seen in: 2010
The Witches' Ball - £3.95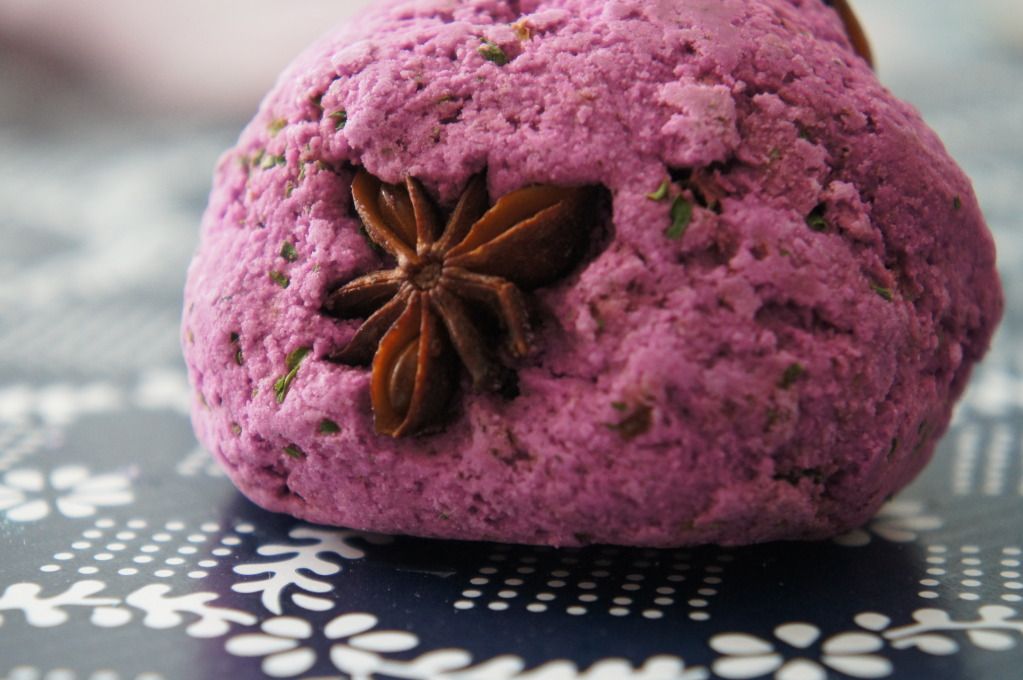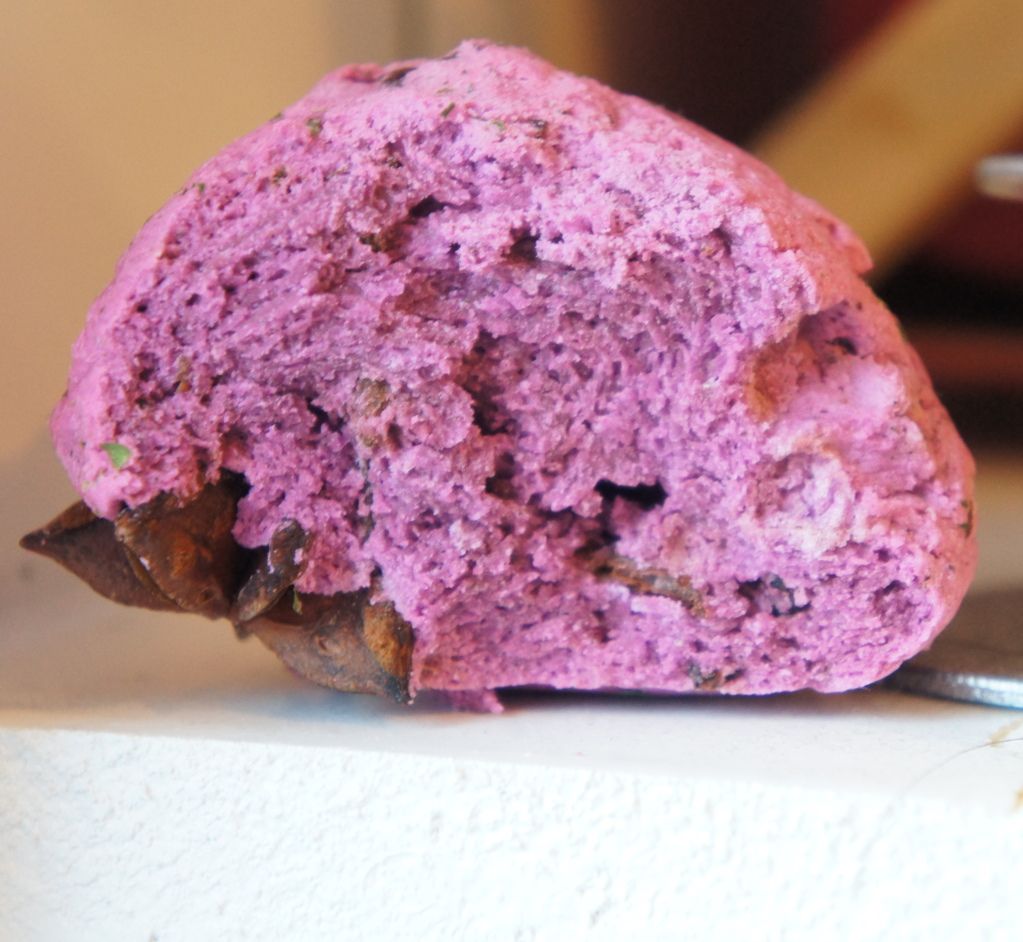 Witches Ball has to be one of the strangest looking bubble bars I have ever seen. It is filled with funky
star anise scattered throughout. The smell is musky, herby but also very sensual and floral. The herb is very low key which is nice. I was actually really confused when I got this because its really hard, whereas bubble bars tend to be squishy, however I crumbled up a bit of it with ease and it produced lots of fluffy long lasting bubbles. The bathwater also went a lovely lavender colour, which was an added bonus. FYI, I did not include the
Star Anise in my bath, it was very sharp and hard, thought it best not to!
I would use with: I think it would go really nice with Sex Bomb!
Ideal for: Relaxing baths, unwinding.
Would I buy again: Yes
Last seen in: 2008

Something Wicked Bath Melt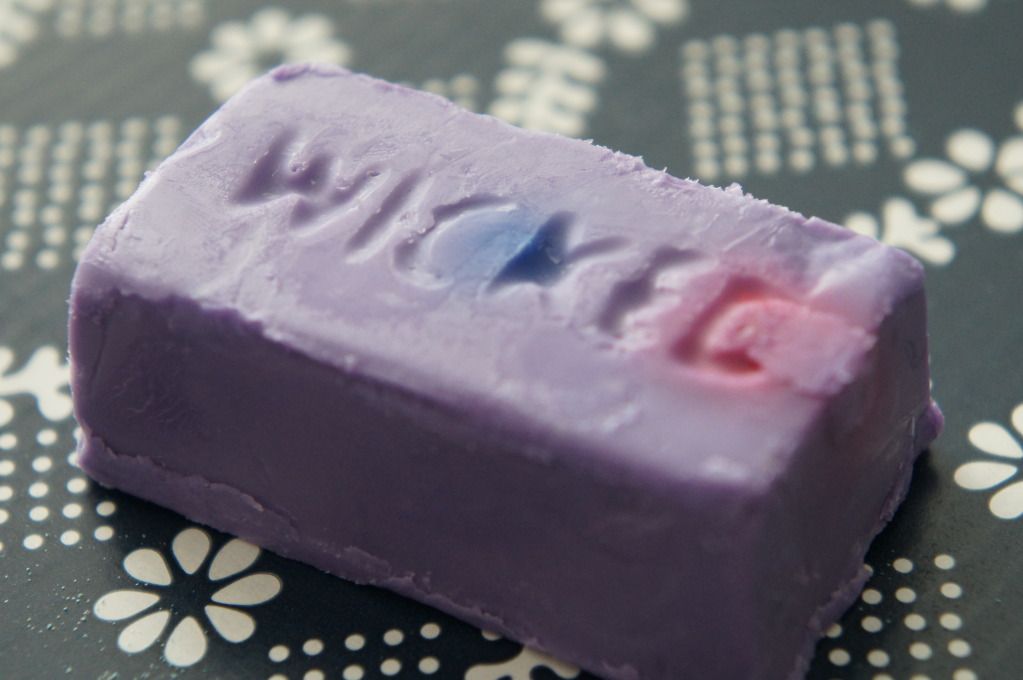 I am a sucker for Bath Melts, I have such dry skin that when it is really suffering, I find a bath melt sorts everything out. Something Wicked was no exception to this. Its creamy and buttery in the water and takes a long time to dissolve (due to the cocoa butter and almond oil used in it). This bath melt surprised me with how strong it actually is scent wise. I had a huge whiff of Jasmine (I love Jasmine though!) which you don't normally seem to get from bath melts. The scent really stayed on my skin which was nice.
I would use with: Sex Bomb Bath Bomb
Ideal for: Relaxing and Unwinding, dry skin
Would I buy again: Yes
Last seen in: 2006
Ghost Shower Jelly
Ghost is a popular Halloween product that is bought back time and time again and rightly so! Ghost is gorgeous floral smelling jelly, but it has something a bit different in it too, which I can't quite put my finger on. Its mysterious and musky! I love the fact that Ghost is bright white! It lathers really nicely, I have some awfully sticky shower jellies which have a tendency to not lather quite so well, but Ghost is on the other side of the scale. You might remember having this is normal gel form, but this year its been bought back as a jelly. I have to say, just for times sake I do prefer gels!
I would use with: Its a toughie, but maybe Sex Bomb,
Ideal for: Getting into the spirit of Halloween, girly showers.
Would I buy again: Yep definitely.
Last seen in: 2011 in gel form.
Overall: I found this was probably my least favourite Retro, scent wise. But obviously not everything is going to be to my personal taste and I loved the range of products and the theme of Halloween!
Hit: Ghost! The first time a Shower Jelly has topped my monthly retro!
Miss: Jacko, was a bit boring for me!
Will you be buying anything from Retro this month? What about the Christmas range? :)