Review: MUA Heaven and Earth Palette
This is a scheduled post whilst I am on holiday. I will be back on the 13th September to reply to comments :)

Hey guys. I'm very late to the MUA party aren't I? I have to admit, when I first heard about MUA, I totally turned my nose up. "Nothing can be THAT good for £1" I would say, but when their sale came around, I actually thought it was a good time to buy their palettes and finally try out the brand. They are so highly talked about in the blogosphere, I was beginning to feel like I was missing out! So today I bring you my thoughts on the Heaven and Earth Palette.
OK, I'm gonna be brutally honest. The shades are a bit hit and miss, but I feel that way about the Urban Decay Naked Palette and most Urban Decay palettes for that fact. I am yet to find a perfect palette (although Lime Crime ones come very close) and almost every palette I do have has one shade that is a bit blah. For the most part, this palette had a wonderful selection of shades and most were buttery soft, finely milled and pigmented. Only a few applied patchy and had glitter fall out which you will be able to tell from the swatches below.
Click picture to make bigger.
Taken with flash.

Click picture to make bigger.
Taken in front of window without flash.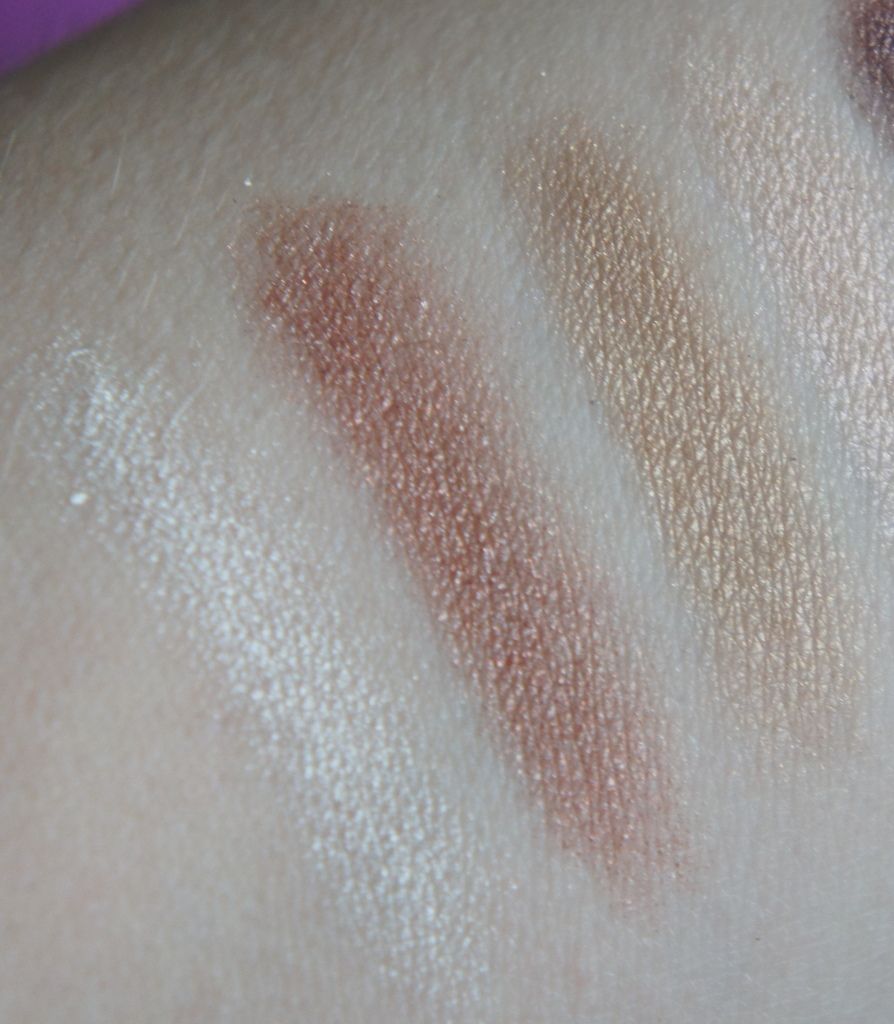 The first shade is a lovely brow highlight/inner tear duct shade. Its very brightening and lifting and isn't too pigmented which makes it perfect.
The next two shades are very pretty neutrals, a lovely pigmented copper and gold. Both presented no problems and blended really really nicely. The shadows are so buttery soft, blending really is easy and hassle free.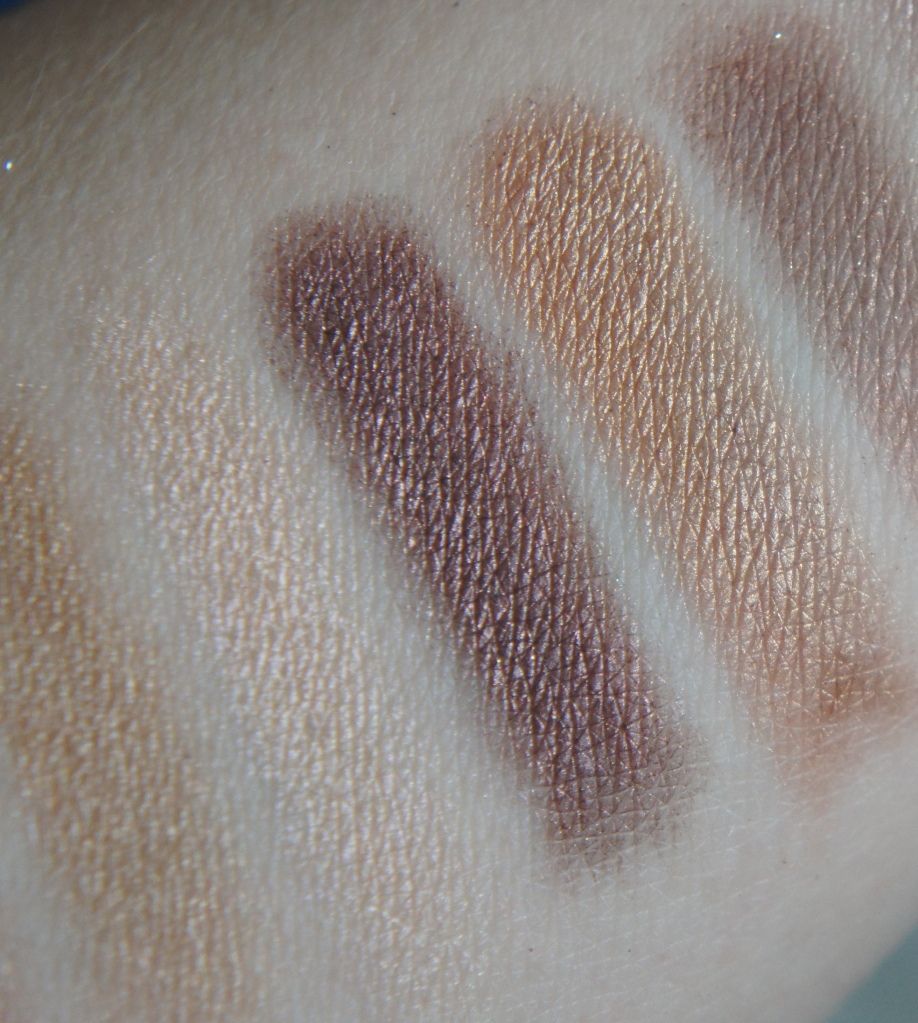 I found the 4th shade to be a little sheer, but nice for throwing on everyday. The 5th shade was so pigmented, buttery and again lovely to blend. It really took almost no building up to get the colour I have swatched here. It has lovely coppery red reflects in it and would make a lovely brown smokey eye *runs off to try it*.
The 6th shade and last in the top row was a lovely gold in the pan, resembling MAC Amber Lights which excited me. However it applied more sheer than I would have liked, but still really nice for a sheer wash of colour.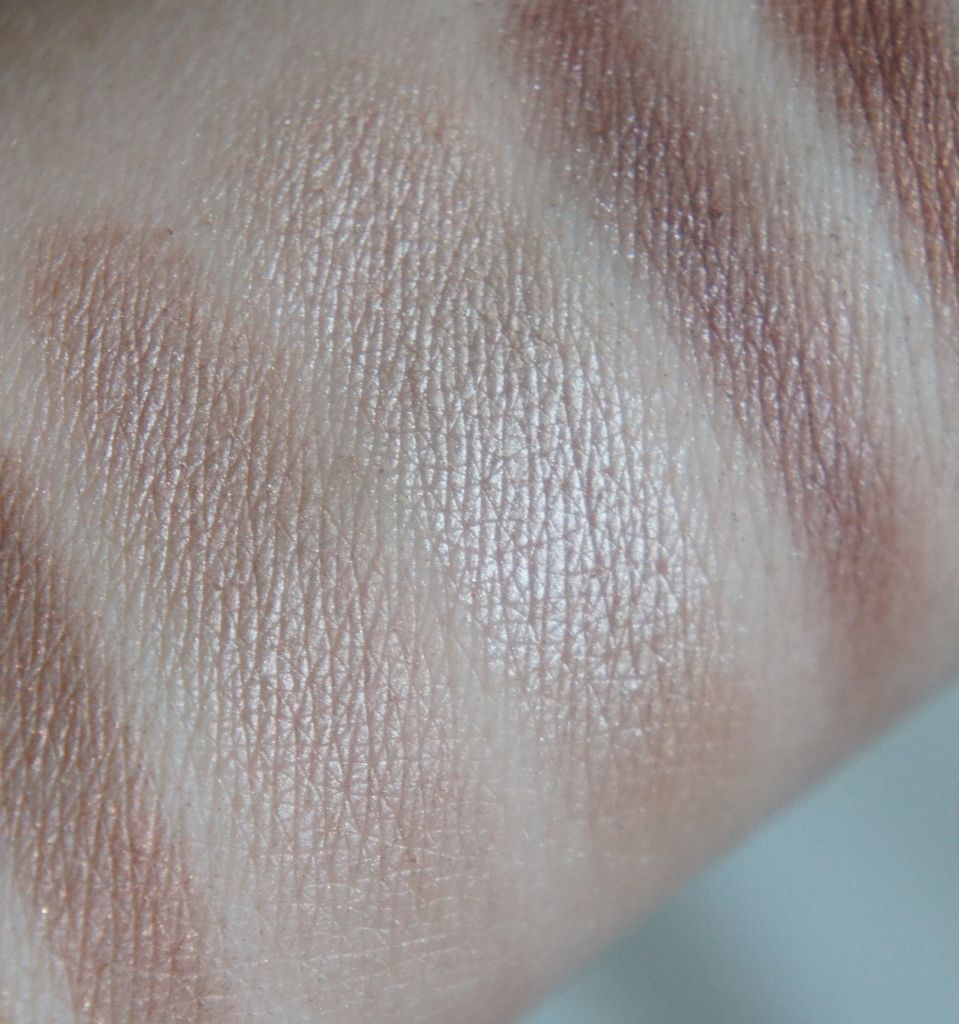 I have to say I was a bit disappointed with these next colours. The first pictured and 7th in the palette was a really nice cool toned brown. It applied very sheerly and patchy and there was a little bit of glitter fall out. However it was not entirely useless, I found this great for putting in the crease and because it was semi sheer - it was nice to build up and not overdo it. The next two shades, the 8th and 9th shades are so sheer! I did really like the 9th shade for throwing on the lid in a hurry, but I did have higher hopes for the 8th shade since it looked like a nice cool toned brown that could have been a really nice crease shade.
The last three shades were really nice. I found the 10th to be a bit on the sheer side but still makes a lovely wash of colour. The 11th shade was lovely, I actually enjoyed popping this on the centre of the lid for some dimension as it is a really nice coppery red shade. The last shade in the palette is a glittery brown with purple undertones. The glitter in this shade didn't fall out whatsoever, which is a feat many companies do not grasp! The glitter looks absolutely stunning on the lid - I can't wait to try a look with it. This shade does require a bit of building up though!
Overall this is a nice little palette and was a great first experience of MUA. I can't believe I was so snobby to start with and have since bought every MUA palette available (reviews incoming!) I really like the packaging and the fact there is a clear window to see what palette it is, what colours ect... Compared to the Sleek palettes, these are a lot easier to find in your stash. I do not feel like these are sturdy, if I shake the palette it does rattle and I feel like if dropped on a hard floor, this could end badly. But at the end of the day for £4, its not going to be the same as dropping and destroying a £30 palette. Really I could only find a couple of shades I was unimpressed with and even then I will still use them as everyday washes of colour and again for £4 I really am not complaining in the slightest. You really cannot argue with that price and the fact you are getting 12 eyeshadows (some better quality than MAC and Urban Decay!). I found the eyeshadows long wearing with a primer and some of the best quality in terms of blendability! I am really happy and will definitely be featuring some MUA in my future looks!
MUA can be purchased here and they do ship internationally. Additionally hop down to your local superdrug which stocks MUA.