Review: Nars American Dream Palette
Hello lovely people.
A little while back I purchased some new Nars goodies. It seems they have bought out a few new palettes including a blush palette which is a SpaceNK exclusive (Sephora exclusive in the US). I couldn't resist, the colours looked divine and I just had to have them. See ya later spending ban!
American Dream palette is a gorgeous neutral toned palette full of beautiful but pigmented colours perfect for any girl who loves themselves a good palette of browns and everyday colours. When I first opened the palette it actually really reminded me of another palette I had purchased almost 3 years ago. Ring any bells ladies?
Yes it is slightly similar to the must loved MAC Dashing Lassie palette which came out with their Holiday 2009 Tartan Tale Collection.
It has at least 5 dupes for colours in the dashing lassie palette. This pleasantly surprised me, since I was in love with that palette and these colours were... well just bigger and better! The pigmentation is really nice, not completely opaque but buildable enough to get a really good eye look. One thing to note is this palette loves its shimmer with only one matte shade in the mix. You can create some really diverse looks with American Dream, from daytime neutrals to evening smokey eyes.
I was surprised to see how powdery Nars eyeshadows are. They do have a tendency to kick up a lot when you put your brush to the pan, and can leave the palette looking kinda messy. This bothers me a little bit particularly when the material of Nars blushers/eyeshadows/palettes is kind of velvety so any little mark and it shows. Its not a deal breaker though. See below for an individual breakdown of each shade.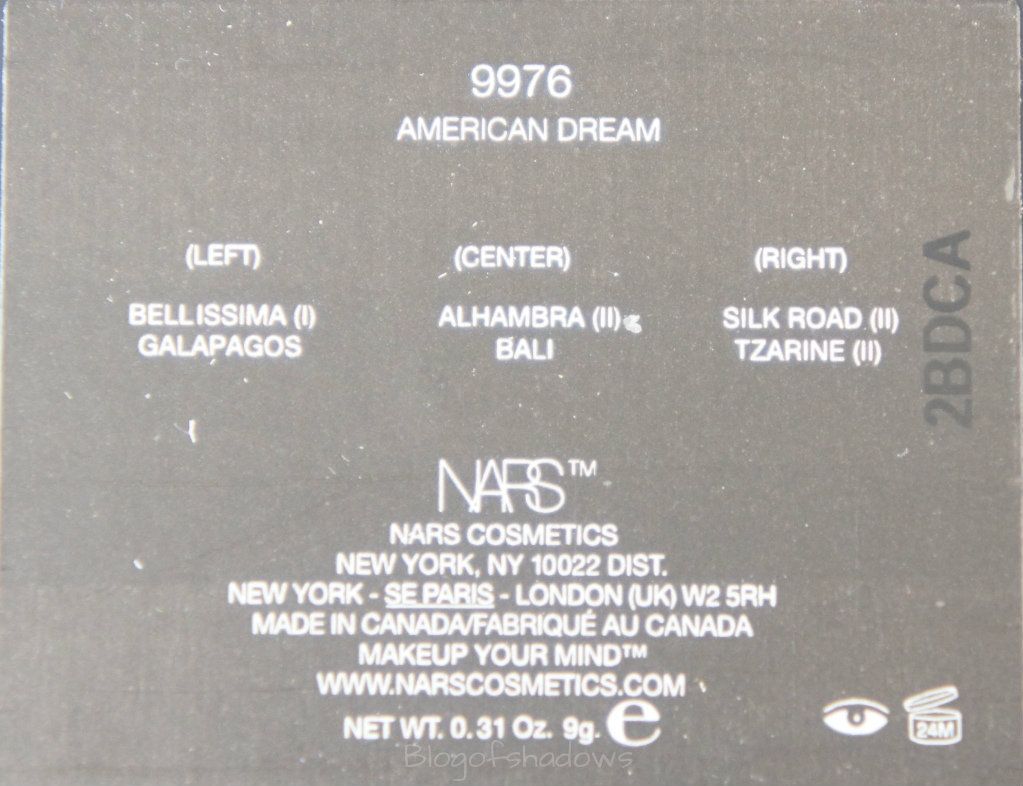 Normal Lighting
Flash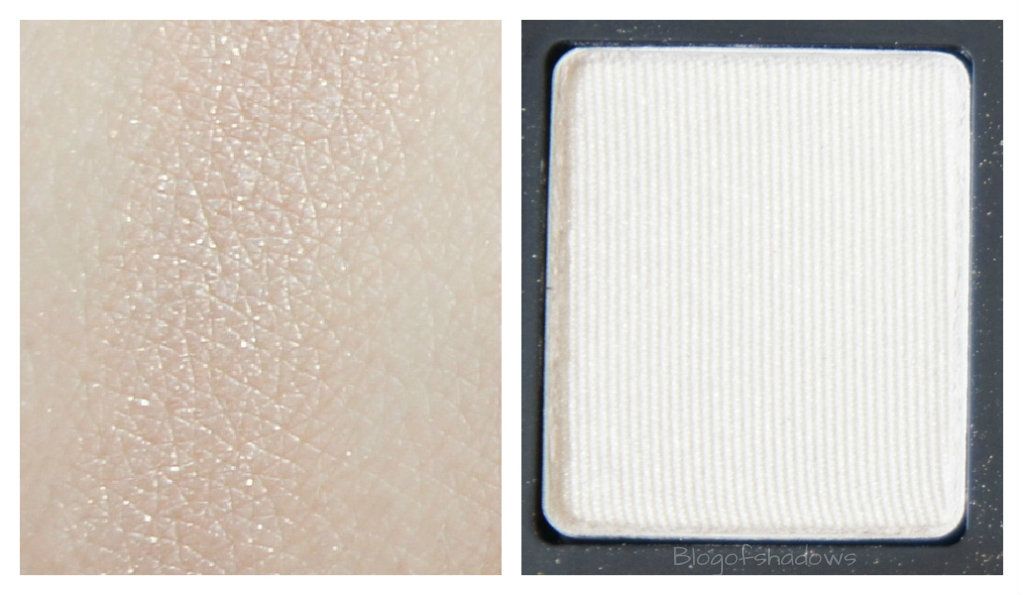 Belissima
Belissima is a really sheer white shade but makes a brilliant highlight/inner corner which in my opinion every palette needs! A very nice addition to a neutral palette and means you can make a whole look out of this little palette. It is also available in duo form here.
Alhambra
Alhambra is a very pretty gold colour. Its gorgeous for this time of year and adds something a little special to the eyes. Its more shimmery than it looks in the photos and really is quite eye catching when it gets the light. I love putting this all over my lid for the perfect daytime make up. Its actually really pigmented while still remaining sheer enough for everyday wear. It is probably my favourite out of all of the shades. Alhambra also comes in duo form here.
Silk Road
Silk Road is very very sheer. It reminds me of a very very glittery "All that Glitters" dupe with the same base colour, but incredibly chunky glitter. To be honest with you, I hate this shade. The chunky glitter is really large and actually ends up looking like flaky skin on your eyelid. The base colour is actually very nice, its just the glitter I don't like. Silk Road is also available in duo form here.
Galapagos
Galapagos is an intensly pigmented dark brown. This really pulls the palette together to be able to give a really strong smokey eye or liner shade. It has some really nice gold shimmer in it which although subtle, is a very nice tough. Its a very pigmented shade and definitely needs a light hand! Galapagos can be bought on its own here.
Bali
Bali is a very cool toned brown and features as the only matte colour in the palette. Its a very nice crease colour for the daytime but I found this was the only colour in the palette that was hard to blend. But that comes with the territory regarding matte shades so I don't mind too much. It is one of the more pigmented mattes I have found, since they are usually so stiff and this is very easy to pack on (sometimes a little too easy - but i'll never moan when it comes to being pigmented!). A really nice welcome colour.
Tzarine
Tzarine is such a stand out shade for this palette. They almost never throw in blues into a neutral palette but I think this shade easily turns a day look into a night look! It makes the palette diverse and different. Upon seeing this shade I actually really thought it reminded me of Urban Decay Gunmetal, but Tzarine is slightly darker and smokier. Its very pigmented and blends easily. It can be bought as a duo here.
Overall I really like this palette and am glad I got it. Its a nice little palette and will fill the void in my make up stash left by MAC Dashing Lassie Palette. Silk Road is really the only dud I found to be in the palette but when I looked it up, many reviews loved it so its likely its just me and my nitpicking! I think these Nars palettes are a really great way to get your hands on some Nars eyeshadows and experiment with them if you have not tried them before, like me. It was a nice introduction and has only made me want to try more (and luckily I have 2 more palettes to review!). I think this palette would be great for everyday use, if you are looking to get into Nars as an introduction to the brand AND also get yourself a diverse palette full of everyday neutrals and some easy smokey eyes then this is a good palette to try.
The Nars American Dream Palette is available at SpaceNK here and Sephora in the US. I am unsure of whether this is limited edition or not, but I think for now, its in the permanent range.
Coming up I have the New Wave palette to review and a few more!
Thank you for reading :)
P/S: Please let me know if you like the way in which I showed the swatches side by side next to the pan. I wasn't sure if you would prefer that and less pictures or bigger pictures but more. I hope that makes sense and would love to know your feedback :)