Review: Lime Crime Magic Dust (Loose Eyeshadow)
Hello everyone, in aid of my giveaway I thought I would review the actual prize I am giving away. The Lime Crime Magic Dusts are one of my favourite and most loved products that Lime Crime is unfortunately discontinuing.
The reason they state for this, is that they want to shift over the loose colours into palette form, however I myself LOVE using loose eyeshadows. Loose eyeshadows offer amazing pigmentation when used wet and very often when used dry too. They may be a little tricky to get the hang of, but usually they offer a superior colour and finish that that of pressed eyeshadows.
I had a bit of nightmare actually, I made the order to SpaceNK since they was offering the goodies at a discounted price. I ordered back ups for me first and then 5 mins later thought "wait, this would make a fantastic giveaway prize" so then made a second order for you guys and my friend. Unfortunately for some reason unknown to me SpaceNK sent out the second order (the giveaway) first. In my first order I had also ordered a Nars Box Set so I simply thought perhaps it was taking slightly longer to pack up because the order was bigger. The giveaway prize arrived and I photographed it and made the giveaway live and my own goodies were still being processed. Turns out SpaceNK majorly messed up and I won't be receiving my own Magic Dusts because they have none left! I am majorly gutted but never mind, at least the giveaway prize is in tact and hopefully they will be discounted elsewhere before they are gone for good!
Anyways on with the review!
The Magic Dusts come in little boxes emblazoned with the famous Lime Crime unicorn. They come packaged in such a way that in transit they won't be flying around inside the little box. The name is printed on the base of the box, however it is very very faint and I struggled to make out the names sometimes, so in the end I just threw them away. The pots themselves are adorable, with the name on the base and a screw lid with a unicorn on top. They come with sifters but I think these can be removed if you prefer. I love the actual packaging, the jars are incredibly cute and look precious in any make up collection and are practical and sturdy, although sometimes I do find the lids don't screw on properly and take a few attempts.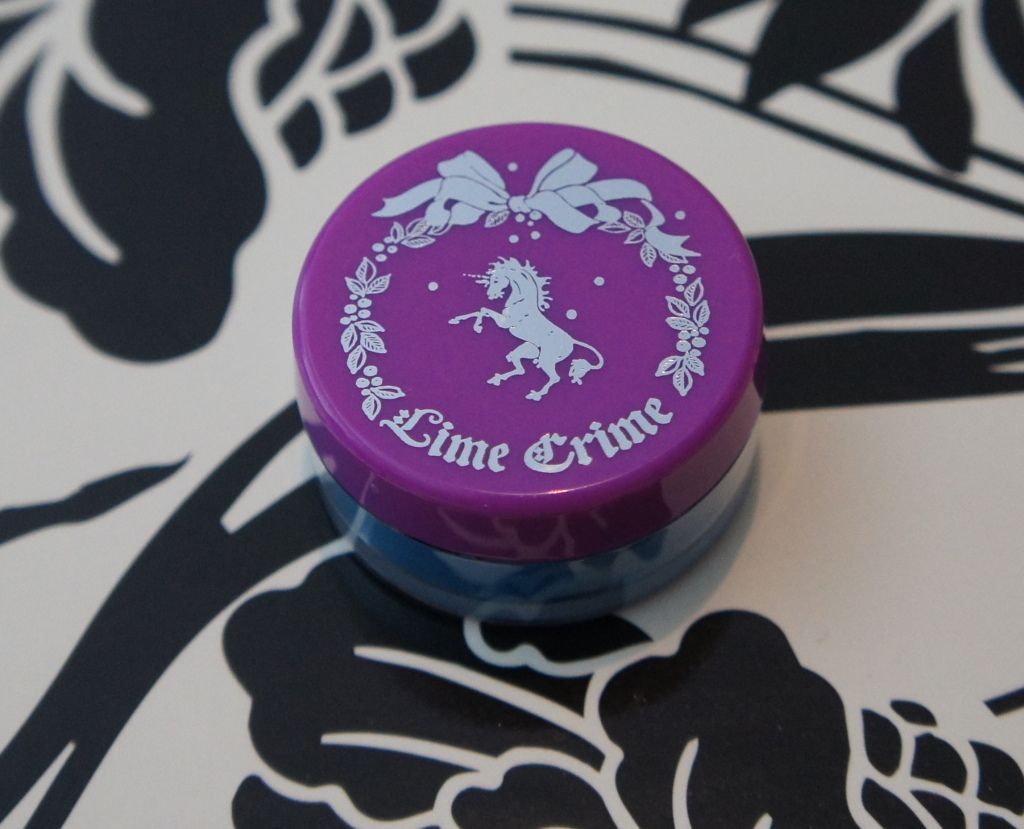 Gorgeous, right?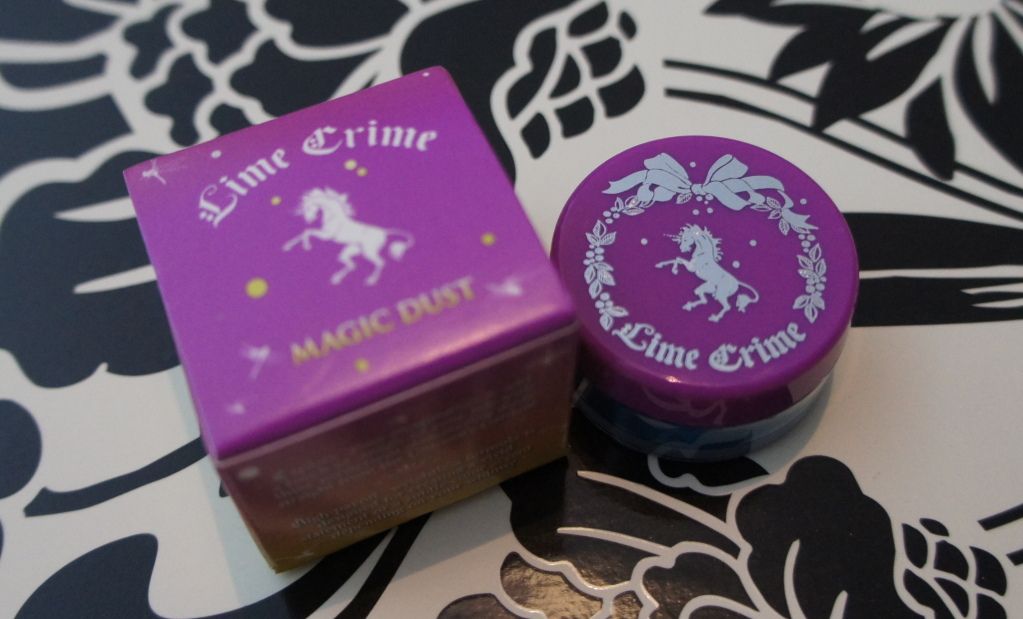 Unicorn-tastic!
The products themselves range from bright shades (like Circus girl which is bright yellow) to complex shades like Dragon Scales. I do find them a little sheer when applied dry and I think they definitely have to be applied wet to get real colour payoff and bring out the brilliant finishes. Dragon Scales applied dry can look very bland and nothing particularly special, but when applied wet, the different colours are really bought out and the finish is something else!
I will let the swatches speak for themselves!!
Please note these are swatched WET, without primer with a cotton bud (or Q-tip). Click on the pictures to enlarge!
From L to R - Twilight, Empress, Mirror Mirror, Cupcake Thief, Diva, Circus Girl, Lime Criminal, Mischief Managed, Shoe Addict, Siren, Dragon Scales, Medusa, Nymph and Troubador.
Taken with FLASH

From L to R - Twilight, Empress, Mirror Mirror, Cupcake Thief, Diva, Circus Girl, Lime Criminal, Mischief Managed, Shoe Addict, Siren, Dragon Scales, Medusa, Nymph and Troubador.
Taken without flash, normal lighting

Kind of an awkward picture... but I wanted to show the sheen to each swatch.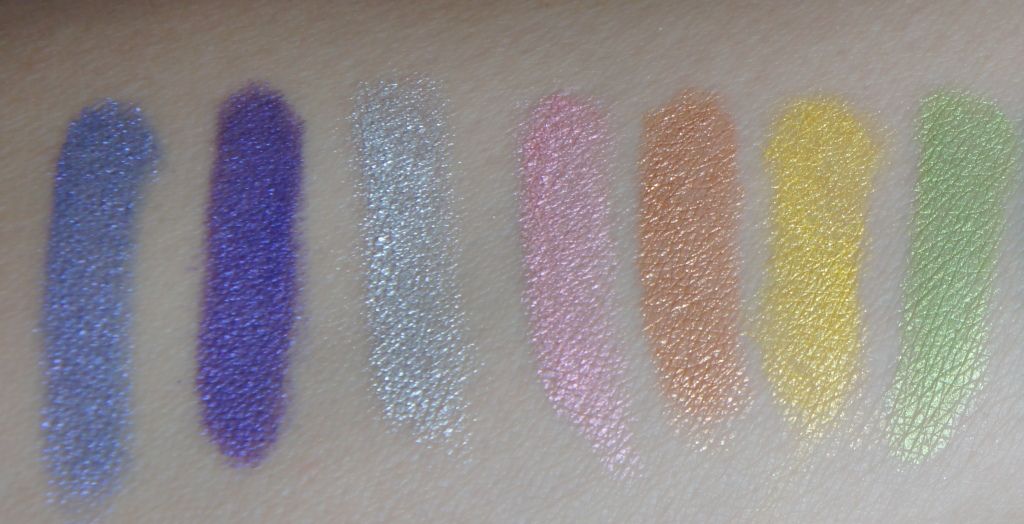 Close up of Twilight, Empress, Mirror Mirror, Cupcake Thief, Diva, Circus Girl and Lime Criminal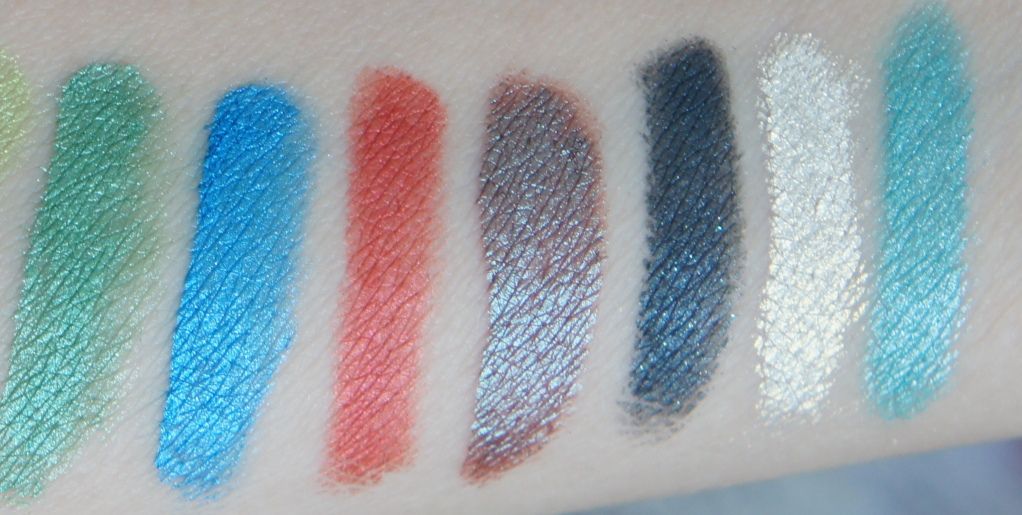 Close up of Mischief Managed, Shoe Addict, Siren, Dragon Scales, Medusa, Nymph and Troubador.
Stand out shades for me are definitely Twilight, Empress, Dragon Scales and Shoe Addict. These colours are beautiful, pigmentation is insane and simply have the best formulation of the bunch. I also love Mirror Mirror because it has a slight blue tinge to it and isn't completely silver. I kind of wish Circus Girl, Cupcake Thief and Lime Criminal were more pigmented, they are the sheerest of the bunch (even when used wet) but still beautiful. I think Medusa is lovely and amazing for smokey eyes, insanely pigmented and has very pretty blue reflects. Dragon Scales is sooo so unique, I have never seen anything like it! Siren is also crazy pigmented for a red as is Nymph for a white!
The blendability is of course lovely, sometimes I find them a little toooo easy to blend but this is common with all loose eyeshadows.
In my giveaway (click here to enter!) I will be giving away all of these loose eyeshadows except for Nymph and Troubador as I couldn't get hold of these ones. I am going to try and get them since I want to be able to give away a full collection. These swatches have been done with my own collection (of course!).
To purchase the eyeshadows if you just can't wait that long, or don't want to miss out on the action (because they won't be around for long!!) just click here and it will take you straight to the Lime Crime Magic Dust page.
I have reviewed the Lime Crime lipsticks before when I was fairly new to blogging so the pictures aren't that great (boy have I improved!). If anyone would like me to redo them I can do another post or alternatively I can do a post on the Chinadoll palette which I gave away in my last giveaway. If anyone would like to see a post on how to use loose eyeshadows I can also do that, because I know some people are afraid to use them because they can get messy or don't know how to get them to show up/blend. Just fire away in the comments!
I hope you enjoyed this review and I urge you to go enter my giveaway to be in with a chance of winning these bad boys! You won't be disappointed.
Thanks for reading! :)