200 Follower Giveaway: Lime Crime Magic Dusts
Hello everyone and hello new followers! I reached the 200 follower mark a little while ago but haven't been able to afford a giveaway especially as I wanted to give away something that I really loved and used regularly myself.
Lime Crime recently decided to discontinue their Magic Dusts (loose eyeshadows!) much to my disappointment. I myself love using loose eyeshadows because I find you can get excellent colour payoff when using them wet. Deciding to keep with the Lime Crime theme (my last giveaway was the Chinadoll Palette) I am giving away some Lime Crime Magic Dusts! I absolutely love these and will be doing swatches tomorrow (with my own of course!) to show everyone what they could win if they enter!
Unfortunately I couldn't purchase the entire collection as some have sold out. So there are 3 of the Magic Dusts missing, but I may even be able to scramble them together by the end of this giveaway, no promises though :)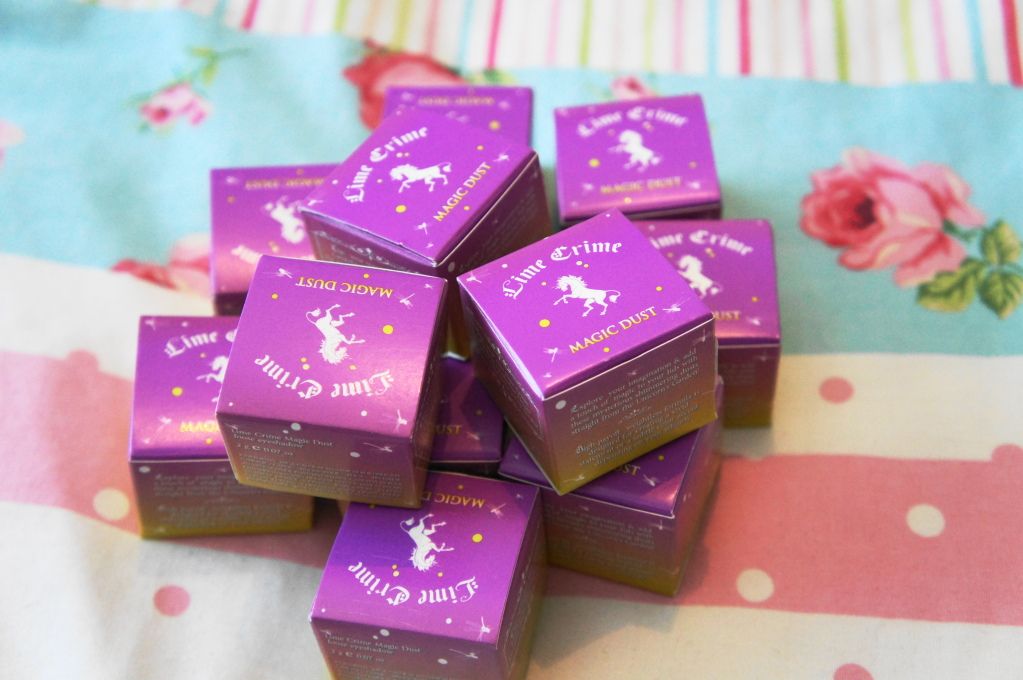 You will win: Circus Girl, Cupcake Thief, Medusa, Shoe Addict, Dragon Scales, Lime Criminal, Diva, Empress, Mirror Mirror, Mischief Managed, Siren, and Twilight full sized, brand new loose eyeshadows.


The Rules
You have to be a follower of my blog via GFC. Please comment leaving your username.
You must leave a comment below stating your favourite make up brand. That is it!
For extra entries!
Follow me on twitter, link is in the side bar or @blogofshadows and leave your twitter username in the comments ---- One extra entry
Tweet about the giveaway " @blogofshadows is having a giveaway over at her blog http://kaysblogofshadows.blogspot.co.uk/ to win some Lime Crime goodies" and leave the URL to the tweet in the comments. ---- One extra entry
That is 3 ways of winning :) Additional rules include, please be over 16 and/or have permission from your parents. Please DO NOT enter if you intend to give the prize away on your own blog and/or are a blog specifically made for giveaways. Giveaway is worldwide. If you win and do not respond within 48 hours (my last giveaway winner didn't respond on time and it was very sad!) I will pick another winner. Winners will be decided via random.org .And remember to leave your email in the comments! This giveaway ends Monday 13th August at midnight (UK time).
Thank you guys for your lovely support, lovely comments and an even bigger thank you to those who continue to come back to my little internet space week after week and read my ramblings. It means a hell of a lot to me and I really enjoy doing it, I have met some lovely talented ladies! Thank you all again and here's to the next milestone (and another Lime Crime giveaway maybe???!)