FOTD #6: Katy Perry "Waking Up in Vegas" Look
So I don't know about you, but I love belting out a bit of "shut up and put your money where your mouth is!". Katy Perry has some pretty amazing make up in this video which I actually managed to find the product breakdown and purchased a couple of the bits. I wanted a really authentic look for this one!
Her make up artist Jake Bailey actually only changed her lip colours in the video, using 3 different Max Factor Lipsticks for different scenes and kept the same glittery smokey eye. Her eye make up really is amazing, but its great to see how much a look can get changed up with different colours of lipstick! I went on a search for these lipsticks which were the Max Factor Vivid Impact Lipcolours. They actually did very well but were discontinued due to the Max Factor to Covergirl changeover (in the US - they were never available in the UK.. booo) but were actually given a lot of good praise! I went on a mad search after hearing such great things and managed to bag the three exact shades used in Waking Up in Vegas for about £15!
The lipsticks really are lovely, they are longwearing and feel like lipbalm on the lips. So moisturising and pigmented! I'm pretty gutted and now on the hunt for a perfect dupe for these bad boys. However they are readily available on ebay for anyone interested and are very very cheap! yay!
So I guess I should stop rambling and show you the look! Products marked with a * were actually used by Jake Bailey on Katy Perry.
Products Used:
Dior Skin Nude* Foundation in 020 Light Beige (I am usually a MAC NW20)
MAC Pink Power Mineralize Skinfinish. Jake Bailey actually used Lorac Hot Flash blush/bronzer duo but I couldn't get my hands on this as its only sold in the US :(
Urban Decay Black Pencil Eyeliner in Zero applied to the crease and outer V.
Chinadoll Palette colour in Lotus Noir blended into crease and outer V very lightly.
Make Up For Ever Large Glitter* patted on top of lid.
Max Factor Vivid Impact Lipcolours in Ms Right* (Red), Ms Understood* (Hot Pink) and Rose Rage* (Rosey Pink)
Urban Decay Eyeshadow in Crystal from Book of Shadows as an all over lid colour and under lash line.
Too Faced Glitter in Blue Moon all over lid.
Benefit High Brow used to highlight brow and line waterline.
Lancome Precious Cells Mascara on lower lashes (yep I'm still doing project 10 pan and tryna get rid of this!)
Lime Crime Candy Eyeshadow Helper as a primer.
MAC Complete Comfort Creme as a base (Yep still tryna get rid of this too!)
Urban Decay Liquid Liner in Perversion
MAC Brun for eyebrows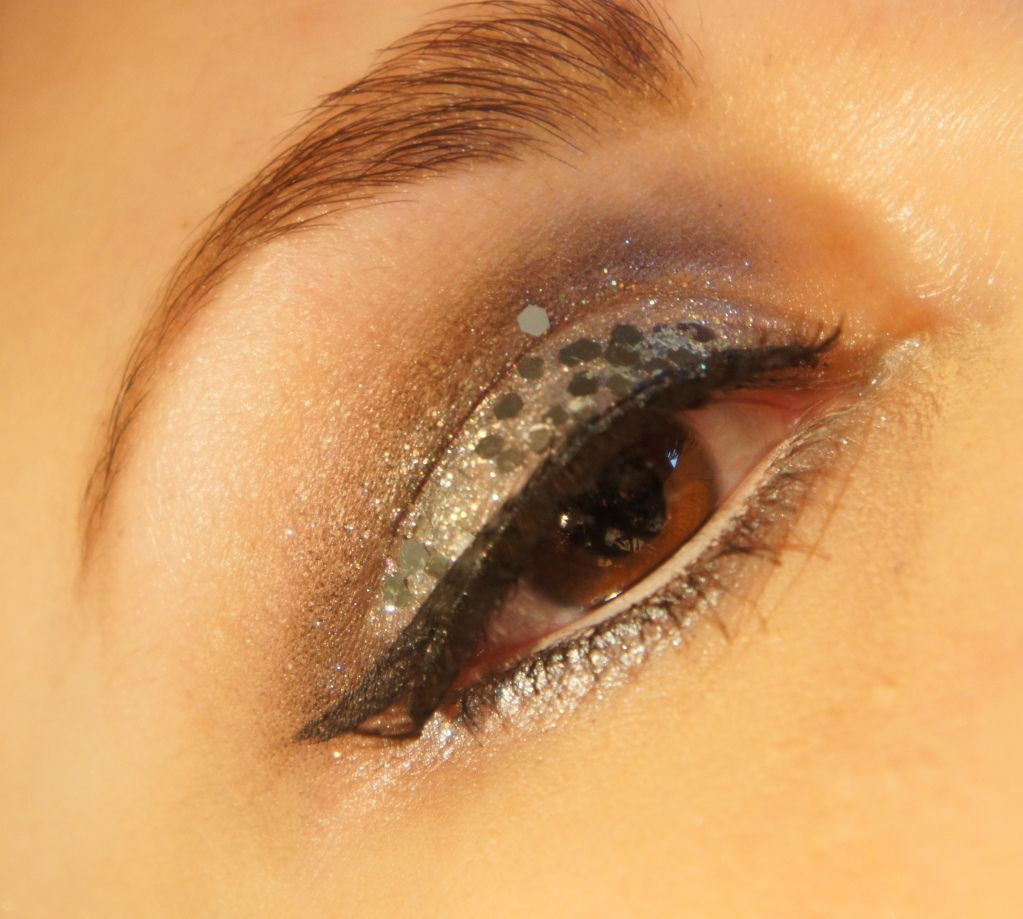 No Flash - to show glitter placement.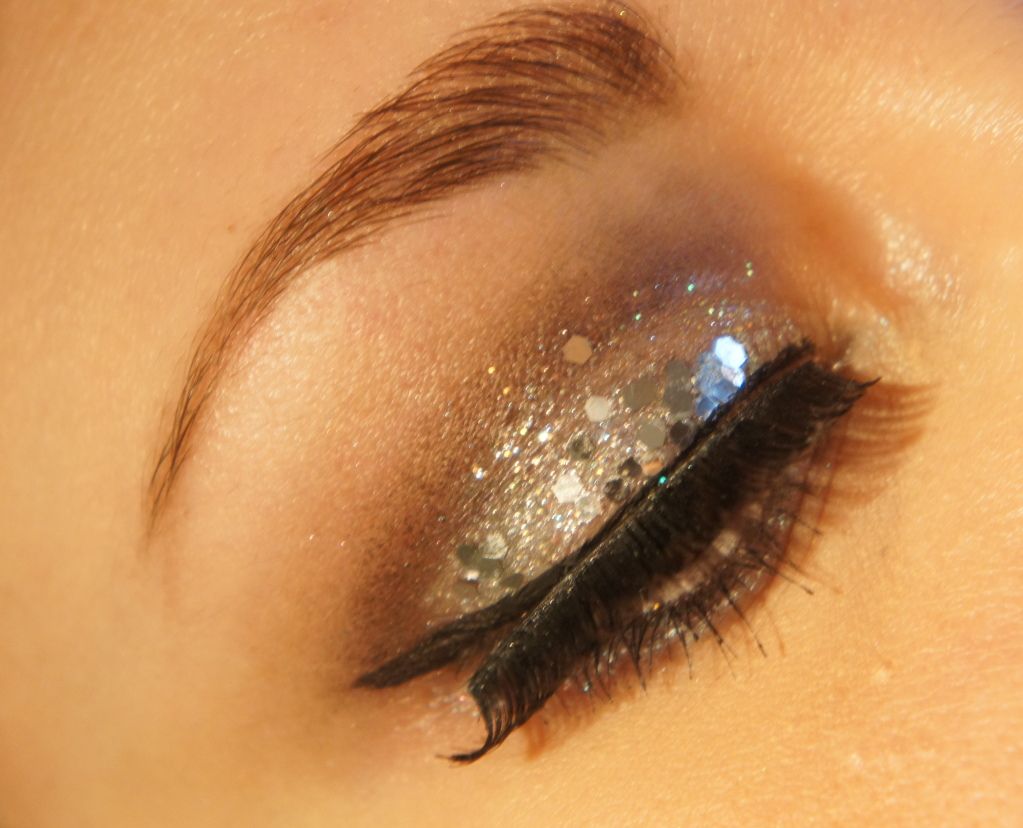 No Flash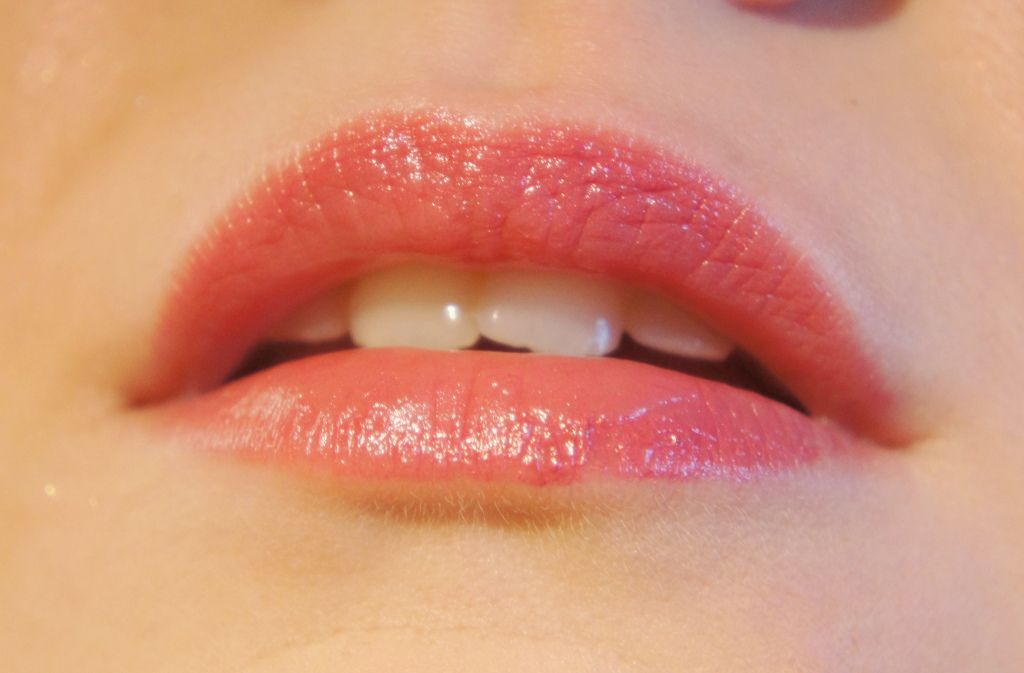 One of the three lipsticks used. This one was used for hot pink blazer and sequin pants scene. - Rose Rage
Ms Right - Used throughout most of the video.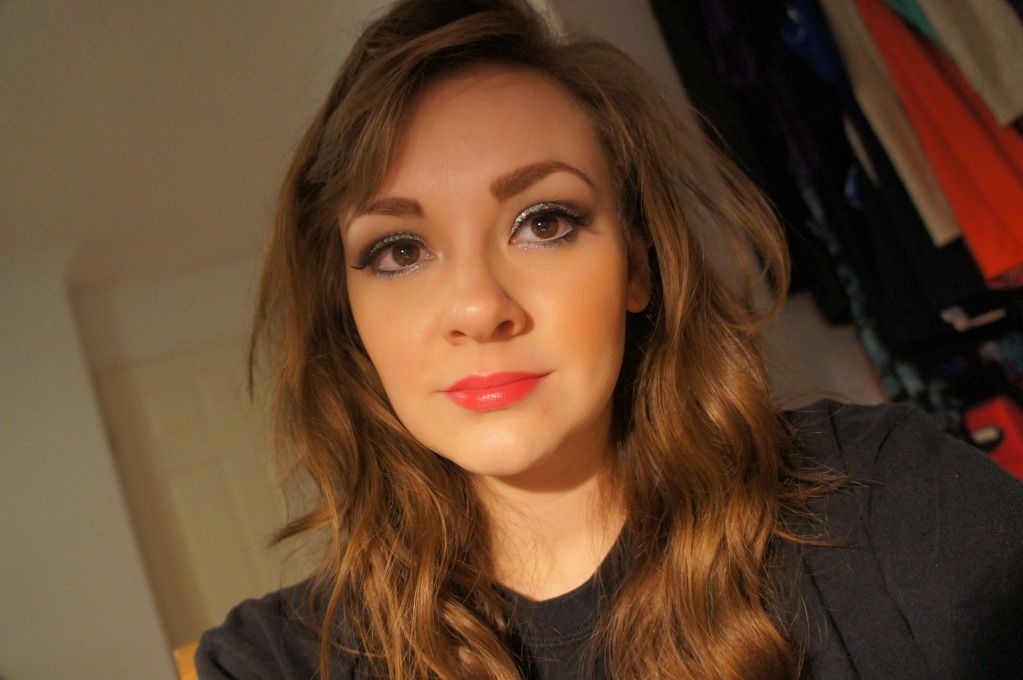 Ms Understood - Used for parade scene. See how much difference a different lipstick can make!


And this is what my vanity ended up like... complete chaos! Fun chaos though! I really hope you enjoyed the look! I think this would be loads of fun to wear on a night out and is definitely eye catching! That make up for ever glitter really catches the light and when I looked in the mirror at times I was almost blinded!