Lush Retro Review: May 2012
Lush decided to skip April Retro (waaah :'( but saved me money I guess!) so I am back today with my review of May Retro!
If unsure of what Retro Lush is... every month (or two) Lush releases 4-5 products that are making a comeback. For whatever reason Lush discontinued them or they were only available for a limited time and for this month only they make a comeback. Its pretty exciting since it means people can get their hands on products that haven't been available in years. Also Lush UK ships worldwide for a very reasonable price, so no fear if they aren't available in your country.
This months retro was very happily received, a lot of sorely missed products have made a comeback!
Deep Sleep Shower Jelly - £4.95
This was such a HUGE hit, its already sold out. But don't worry Lush are making some more due in next week. I really liked that Lush catered towards those without bathtubs this month with a sleep aiding shower jelly as well as bath bomb. I again could not put my finger on the smell, it kinda had a kick to it which I found odd in a shower jelly designed to aid sleep! I found it to be citrusy and sweet! In the picture of the website Deep sleep looked like it had glitter in it, but mine didn't :( I would have loved a little bit of glitter! It lathered well, but seemed a little "stickier" than other shower jellies, making it a pain to actually get out of the tub.
I would use with: Waving not Drowning bath bomb.
Ideal for: Before bed, troubled sleepers, a little pick me up.
Would I buy again?: Probably not, I found this a little meh!
Last seen in: 2009
Heavenly Bodies ButterCream - £4.95 for 100g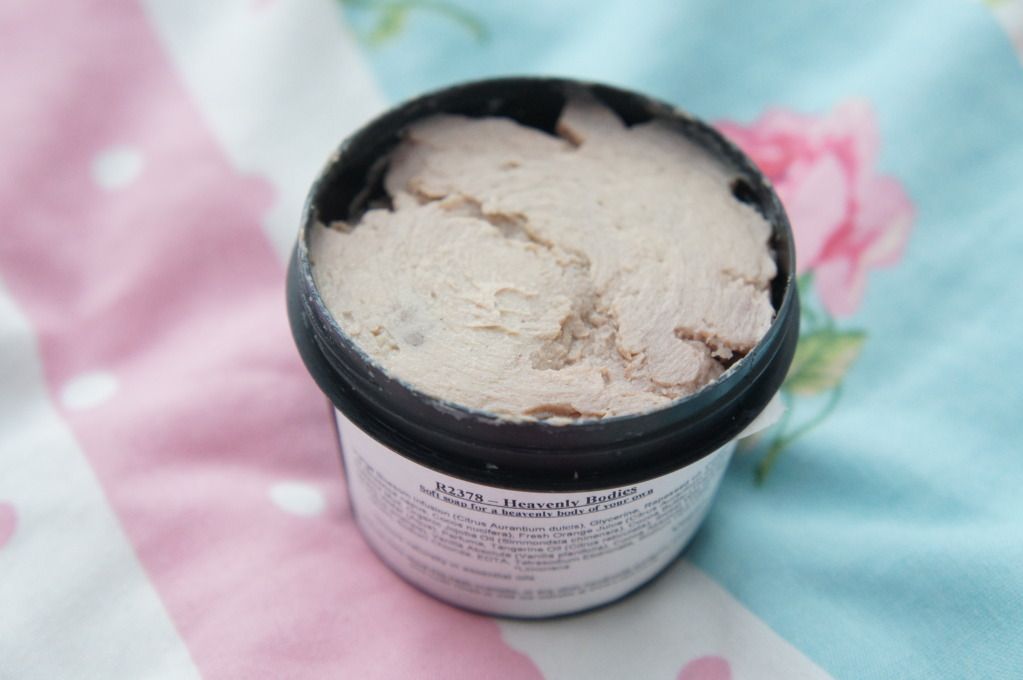 I am sad my tub didn't have a retro sticker on it, whats that about!
Heavenly bodies smells like heaven in a tub. If you love yourself some chocolate smelling goodness, this little pot smells good enough to eat! It has notes of chocolate, vanilla and orange, all of which are potent. This is definitely not for those who don't like their sickly sweet smells and even me who loves it... finds this a little hard to use in the mornings. This is designed to be used in the bath/shower as a soap type product, to wash with. It isn't supposed to lather like traditional soaps because Lush took out all the lathering ingredients to make this ultra caring for dry skin. However this did nothing for me but dry my skin out. It was hard to use and slippery, it didn't smooth onto the skin well at all and at the end of it my arms were left suffocating to breathe! A shame really because I definitely loved the smell.
I would use with: Similar sweet scents like Snow Fairy, Candy Mountain or Vanilla Fountain.
Ideal for: girl sweet baths/showers
Would I buy again?: No, but I do love the smell.
Last seen in: I want to say 2009 but I think I am wrong. Would definitely need clarifying!
Waving not Drowning Bath Bomb - £2.60 each.












I made a point to use this little but mighty bath bomb before bed to get the full effect! Waving not Drowning is designed to be used to relax you or help you get to sleep. It is one of the smaller lush bath bombs, but no need to worry because it packs a mighty little punch! It is heavily and I mean heavily smells of lavender (which I love!) but I would steer well clear if you don't like that scent. It turned the water a lovely calming lavender colour (though not opaque, I always think its more fun opaque!). It made for a beautiful relaxing bath, the scent was strong, yet not overwhelming and really did relax me! I am definitely tired writing this now!
I would use with: Marathon Bubble bar, A French Kiss bubble bar, Dreamtime Bath Melt, Dream Cream...
Ideal for: Long soaks in the tub after a hard stressful day, those who need a little help drifting off.
Would I buy again?: Yes definitely. Would love it to be permanent.
Last seen in: 2006
Marathon Bubble Bar - £3.25 each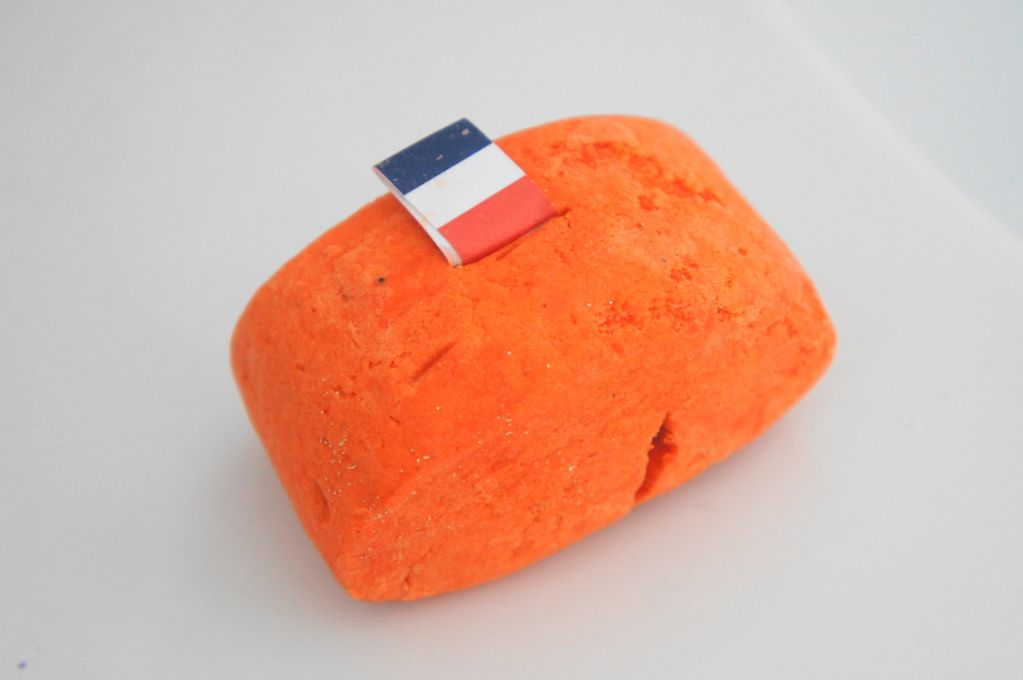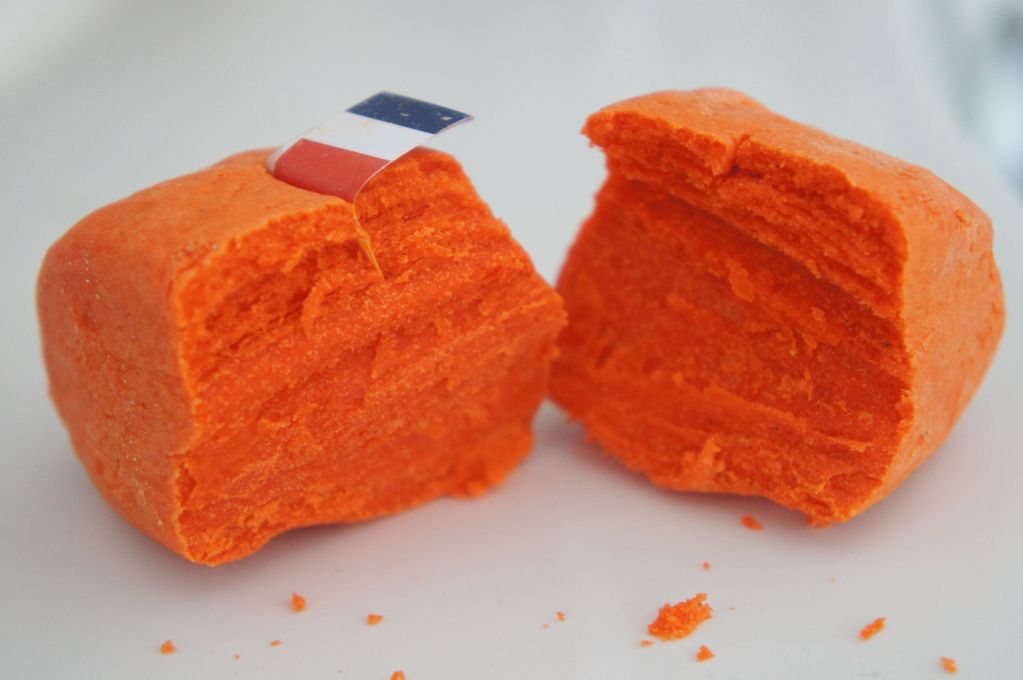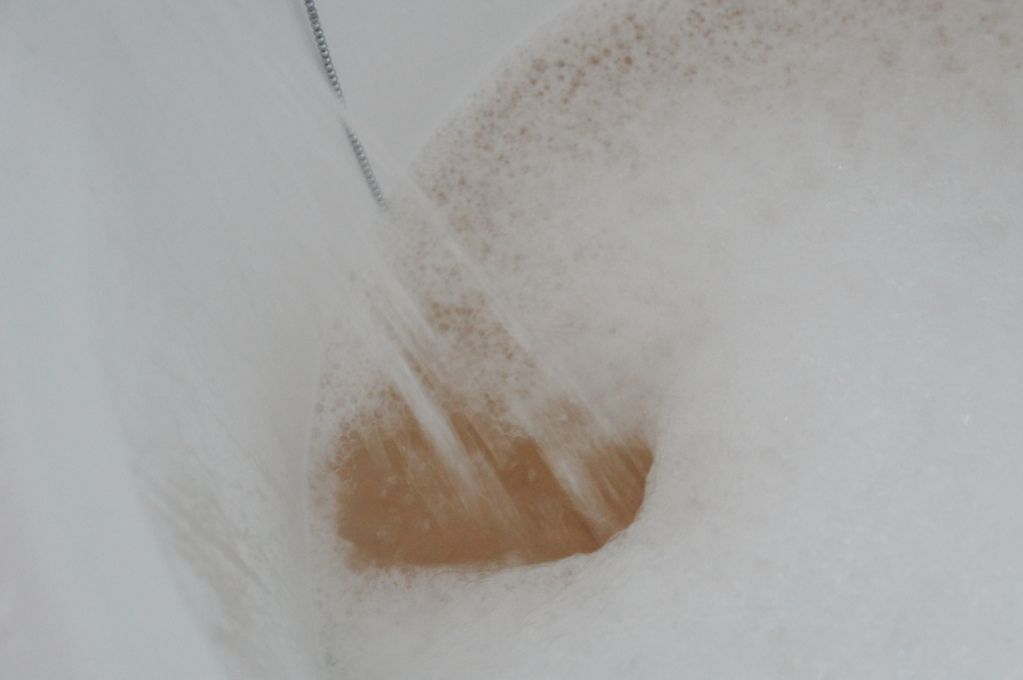 Wow, I just love Marathon, its gotta be said first! The scent is very hard to describe, its sweet and spicy at the same time. But spicy in a good way because I am not a fan of cinnamon scents. It was very pleasing and new to me. I really could not put my finger on the smell, but it was deliciously satisfying. Marathon is shaped exactly like Hot Milk? but with a little flag on top. I could probably get about 4 baths out of this little guy because a tiny bit goes a long way, not bad for £3.25! Marathon was created for marathon runners and therefore has qualities that would make it the ultimate relaxing bath. I myself would need to use this after exercise to give the verdict but it does make for a super relaxing and uplifting bath. It turns the water a dusty orange colour and produces more than enough bubbles that lasted just under 20 minutes for me. My only critique would be to make it permanent lush!
I would use with: Wiccy Wiccy Massage bar, Waving not Drowning Bath Bomb
Ideal for: After exercise, running and achy muscles.
Would I buy again?: Yes yes and yes. I really hope these are still available next payday!
Last seen in: 2006
Business Time Massage Bar - £4.25 each
Oh my goodness, Business Time smells so good! I haven't put it down yet. It smells to me like white chocolate with a tiny hint of rose but the description actually lends notes of fennel, lavender (that does come through too) and rose. I love the design which is a strange looking man in an inspector type hat. This is THE quickest melting massage bar I have ever come across, far more than last retro's Nutts. It began melting in the packet it came in which is a shame as I can't see this lasting long at all. The Lush website says 2 uses, which isn't a lot at all for the price. I might chop it into tiny pieces and use it as a bath melt as it is super softening to the skin.


I would use with: On its own with a partner (ooooerrr) or in the bath as a melt with Rose Argon.
Ideal for: That special someone ;)
Would I buy again?: YES! In fact I am tempted to make another order right now, the smell is just divine.
Last seen in: Xmas 2008
Overall: I loved that this months retro was themed, they all go together so nicely! I also love that Lush actually listened to people on the forum and bought stuff back that was sorely missed. A great assortment of products, I was very pleased :)
Hit: Marathon. Must buy more!
Miss: Heavenly bodies was a huge miss for me and did nothing for my dry skin despite being created for that purpose.